The free open source platform GitHub recently put out a new application: GitHub Desktop. It connects into the online package manager from the desktop of a Windows or Mac machine.
According to GitHub this new application aims to offer a unified collaborating experience across multiple devices. Check out the app's new landing page to find more info.
If you've used GitHub in the past then you must already be aware applications have existed for Windows and Mac users – albeit the apps for both of platforms differed in terms of UX.
GitHub Desktop offers a more streamlined user experience & it's managed by the official GitHub team.
What's New?
This new application focuses to improve collaborative workflow between developers. You can now commit your changes or open a pull request on repos directly from within GitHub Desktop.
Plus branching off your own repo is a snap – all you have to do is select the current branch in order to switch branches in repository view. Plus you can easily browse through commits on local and remote branches, then merge your code to the master branch – all of this from inside the GitHub Desktop application.
According to the GitHub blog, existing users of the GitHub application for Windows or Mac will receive automatic upgrades to the latest version of GitHub Desktop.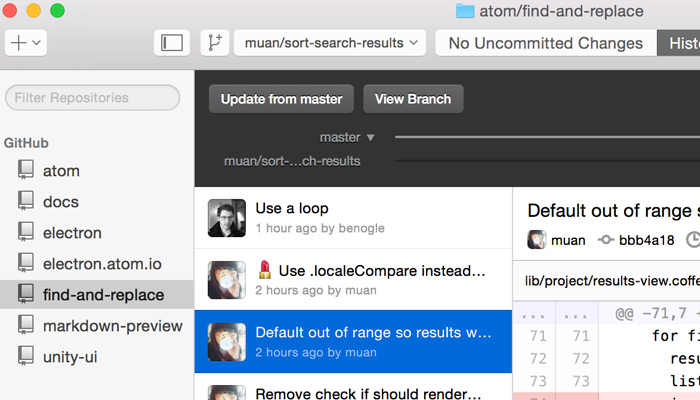 With over 9 million active coders and 22 million unique repositories, GitHub has long established itself as the de facto king of collaboration for developers. This hot new release of GitHub Desktop is meant to offer a more consolidated approach to coding without the need for a web browser.
What do you think of the new GitHub Desktop app? Given it test run yet? Share your views in the comments below.