Today, everyone seems to be nuts about faster web site building. Both professional developers and DIYers commonly opt for ready-made HTML5 templates, as they are enormous time-savers in web site development. However, many templates come only with standard features and pages that do not necessarily cover all of your needs. While you can save some time with a ready-made design, a limited feature pack still forces you to look for third-party functionality. TemplateMonster, a web design company with 14 years of experience, has come up with a solution to this problem. To overcome any limitations, its inventive team released Intense, a multipurpose HTML5 template with a zillion pages. Let's explore this universal template in detail.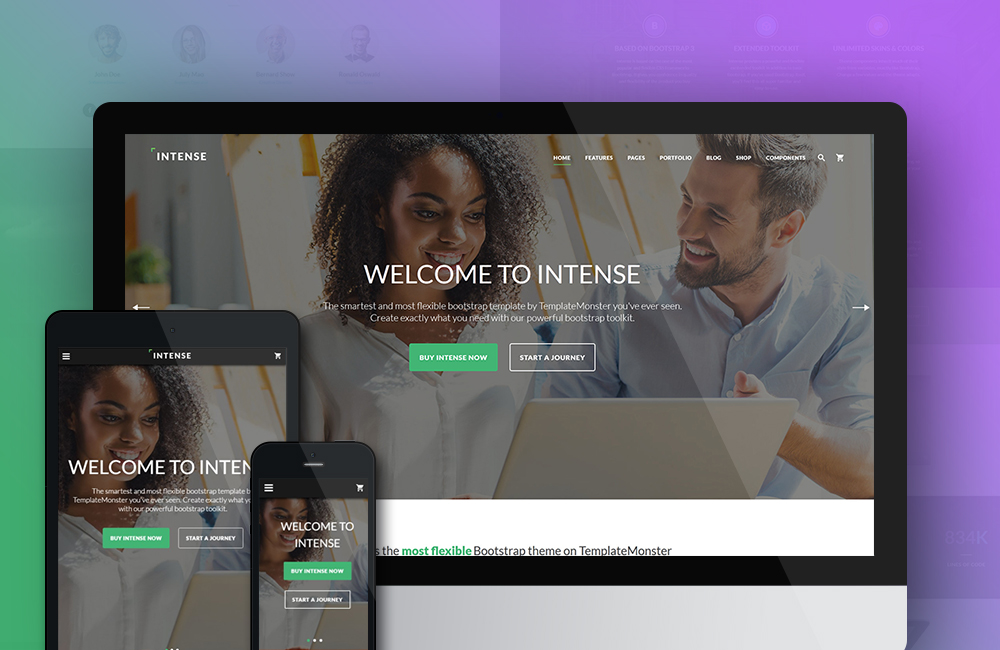 Intense is a multipurpose HTML5 template meant for building corporate and personal sites, blogs, online stores, portfolios, landing pages, etc. In fact, all the pages are already pre-built for you. For your part, you just need to customize them a little bit. The template comes packed in an unexaggeratedly all-inclusive package, in which you can access 150+ HTML5 files, 150+ PSD files, 50+ shortcodes with 110+ components, child themes, and much more.
Free Lifetime Updates
The above-mentioned features represent the initial release of Intense. Later, this massive template will be subject to constant updates such as new pages, skins and child themes to embrace any possible niche. All the updates are completely free.
Free Lifetime Support
Just like any other product from TemplateMonster, Intense entitles you to free, lifetime support. You can contact a professional at any time, 24/7, and get detailed answers to all your questions.
* * *
Huge Choice of Pre-Designed Pages
With an incredibly wide choice of pre-designed pages, Intense allows for much faster website development. Instead of building each page from scratch, just swap the default content with yours, edit colors and fonts, and the page is ready to deliver your message. The pages included with the template package serve many purposes. There are both standard options such as contacts, about info, and FAQs and extras such as coming soon, maintenance, and appointment. You can also access a 404 template that will come in handy when visitors try to enter a non-existent or already deleted page.
* * *
Multiple Niche Templates
What makes Intense versatile for literally any user is a set of child themes. By means of these niche templates, it can embrace a wide range of industries. Whether you deal with finance or artwork, you will be able to find the skin already adapted to your specific activity. Currently, the package for Intense has 2 child themes, one for restaurants and one for photographers' portfolios. But, as we've already mentioned, their number will constantly grow as a result of lifetime updates, to deliver a ready-made solution for almost any niche.
* * *
20+ Blog Pages
Blog integration helps engage customers and fill pages with keywords for better SEO rankings. This is why Intense HTML5 template is integrated with a blog and has 20+ blog pages for it. Whether you prefer a classic or modern style, grid or masonry structure, you can pick the most suitable layout type for your taste. There's also a separate design to cover your upcoming or past events.
Would you like to complement your posts with tags, search, list of categories, archive or even social media feed? Intense fulfills this task through sidebars. You can optionally use layouts with a sidebar on the left, right and both sides. It's also possible to leave your blog pages without any sidebars at all if you like. Each layout type comes with a ready-made solution for a single post page.
* * *
15 Portfolio Pages
When it comes to your portfolio presentation, Intense offers 15 pre-designed pages. Their layouts vary from wide and full-width to grid and masonry. Each layout is equipped with a filtering option, which lets customers explore your projects by categories. Depending on your preference, you can set up either vertical or horizontal categorization. Intense HTML5 template also has a ready-made layout to showcase a single project with images, videos, text, info about its author and related works.
To make your portfolio more engaging, Intense is supplied with 6 custom effects. On hover, they reveal some project details (its title, categories, short description, etc) and other elements (CTA button, commenting and rating options). The Apollo effect also gives a bluish tinge to the picture, while the classic one zooms in on the image. Each custom effect has its own mission.
* * *
10+ eCommerce Shop Pages
Intense is an eCommerce-ready HTML5 template packed with 10+ pre-designed shop pages. You can choose from grid and list layouts with a left, right or no sidebar. In the sidebar area, shoppers can switch between different categories, brands, colors and sizes of your merchandise.
To show each item individually, there is a ready-made single product page. Its layout features everything required to present a certain item in full. There is a product gallery, accordion with info details, available colors, sizes, quantity, price, and add-to-cart button. To show customers more, you can display related products right above the footer.
Online merchants can also make use of pre-designed checkout and cart view pages. The latter shows all the items in the cart and has options to remove some of them or add more. On the checkout page, customers fill in their billing and shipping details, check all the ordered items, and choose the payment type.
* * *
Multiple Header and Footer Layouts
The header is one of the most important layout areas, as it is the first thing visitors see when they enter your site. It can make or break your business introduction, which is why you must test different variations to choose the most effective one. With Intense, it's easy-breezy. It provides numerous header types for experimentation, particularly a sidebar toggle, floated bar, top panel, etc. Moreover, you can choose from dark, light and sometimes transparent styles.
The finishing touch of your site is just as important as its introduction, which is why Intense offers various footer types. For example, the default version of the footer has a logo, social icons, subscription form, useful links, and latest news. Using the second variant, you can show your logo, address details, testimonials, social icons, and contact form. Each footer layout has its own set of elements, so choose the right one depending on the info you want to highlight in the end.
* * *
150+ HTML5 Files
The initial release of this powerful template contains a total of 150+ HTML5 files. Such a huge number of ready-made solutions allows you to create any layout you can imagine within a few moments.
* * *
150+ PSD Files
Along with 150+ HTML5 files, you will get a set of 150+ PSDs, which is cool stuff for designers. These layered PSD files can easily be edited in Photoshop.
* * *
50+ Shortcodes
What also adds to the usability of Intense is a set of 50+ scalable shortcodes with more than 110 components. Feel free to use them to supply your site with different content and functionality.
* * *
Extended Bootstrap Toolkit
Powered by Bootstrap, Intense comes with the main components of this framework, but isn't confined only to them. In addition to the standard components, the template offers an extended Bootstrap toolkit with elements that the framework lacks, but all the developers long for. They include alerts, animations, counters, dividers, timers, infographics, and much more. There are also 2,000+ font icons for various purposes, e.g. payment, currency, gender, and form control, to name a few. With Intense, you will have all the essentials at hand, without the need to browse the web for the missing parts.
* * *
Flexible RD Audio & Video Players
No text and imagery can create as strong an impact on customers as podcasts and videos. To make your site more impactful, Intense is integrated with audio and video players.
* * *
Social Integration
Social networks are known as powerful traffic drivers, which is why Intense was developed as a fully-fledged solution for social media integration. It features multiple social widgets, from Twitter and Facebook feeds to Instagram and Flickr galleries. Unlike many other HTML5 templates, Intense embeds these widgets into the layout elegantly so that they are able to blend well with its entire design.
* * *

Do you wonder what people who've already used Intense think about it? In general, they left positive remarks about the template. You can check some of them yourself in this screenshot below.
* * *
Final Words about the Intense HTML5 Template
With Intense, you can build a site of any type easily and quickly. Everything you'll need for this is already included in the template's package – pre-designed pages, layered PSD files, child themes, premium plugins, shortcodes, social widgets, standard and extra Bootstrap components. This huge package of this HTML5 template will also grow over time, providing you with more new pages, child themes and other features for free.