Ultrawide monitors are largely considered to be the next big thing in the computer monitor world, and a number of ultrawide monitor models have been released over the past few years – such as the Dell U3415W or the Samsung S34E790C. Still, while most of those monitors offer a resolution of 2,560 x 1,080 or sometimes 3,440 x 1,440, LG wants to take things to the next level. Introducing the LG 38UC99.
So what makes the LG 38UC99 so special? Quite a few things, actually. For example, the monitor offers an eye-burning 3,840 x 1,600 resolution with a 21:9 aspect ratio, a 75Hz refresh rate, and a 38-inch screen. Oh, and did we mention it's curved?
There's no denying that the 39UC99 is an absolute beast, but it has a price tag to match. Is it worth the $1,500? We put it through the paces to find out.
This thing ain't small
Let's get something out of the way before we look at the monitor's design. You're going to need a pretty huge desk. Even LG's press shots for the monitor don't really do it justice. If you have a large desk, you'll probably be good to go, but if you're unsure, you're going to want to take a look at it for yourself. For reference, the base of the monitor sits at around 20.5-inches wide, so you'll need at least that much to really use this monitor at all.
The 38UC99 features LG's classic white and silver look, which gives it a very sleek and premium feel. The stand follows along with that trend – it's a smooth metallic silver that looks as modern as the monitor is. Speaking of the stand, you get quite a few options with monitor placement – you can easily adjust the higher and tilt of the monitor simply by moving it to where you want.
On the back of the curved monitor, you actually get quite a few port options. You'll find two HDMI ports, a DisplayPort, two USB 3.0 ports, and even a USB-C port. If that isn't enough, the monitor has Bluetooth connectivity, so you can quickly and easily connect Bluetooth peripherals to it. For example, you can connect your phone to the monitor to wirelessly stream music to the monitor's speakers. As an audio buff (and editor-in-chief of HeadphoneReview.com), those speakers don't sound amazing, but they're certainly not bad and should suit most day-to-day purposes.
Those extra ports are pretty nice, and they turn the monitor into something of a content hub – you can charge your devices straight from your monitor, which isn't a necessary feature, but an added bonus nonetheless.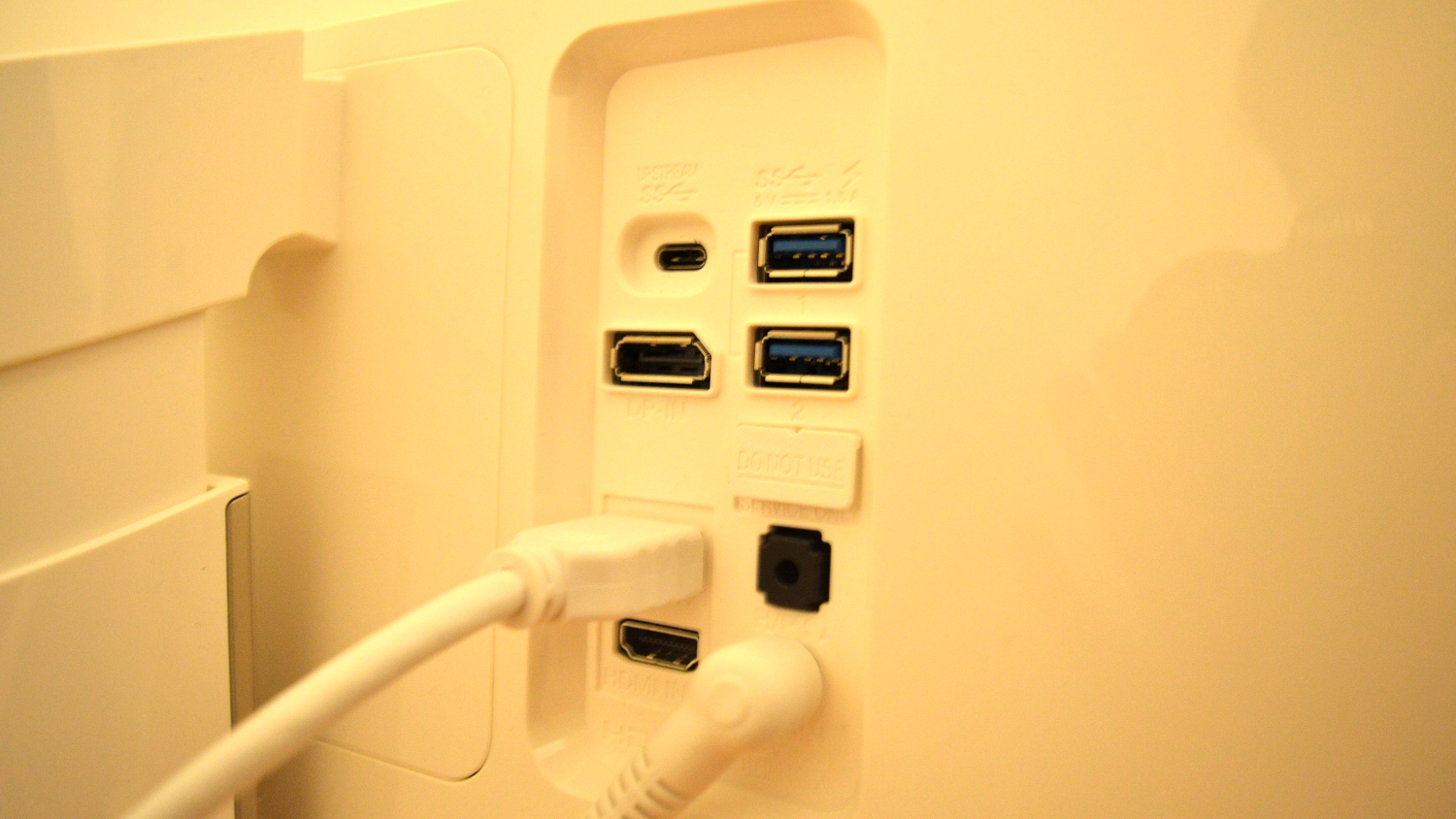 On the bottom, LG has taken an interesting approach to the monitor's controls. Instead of a D-Pad or simply a series of buttons, there's a joystick, which is extremely easy to control. Simple press on the joystick to turn the monitor on and off, then follow the on-screen prompts to control the monitor. Quick settings you can change with that joystick include things like Brightness, Contrast, Volume, Screen Off, and Bluetooth Audio. Screen Off is a little confusing, but it basically turns the display off when the monitor is connected to a Bluetooth audio source.
Instead of having to tweak all those settings yourself to find what you like, you'll also get access to a number of presets – which include two "Dark Room" presets, and a few options for gaming.
Setup
We should take a moment to mention that this monitor is a super high performer, so don't expect every computer to work well with it. For example, while the monitor worked well on most computers we tested with, my slightly aging 2012 MacBook Pro with Retina Display didn't fare so well – it could only handle the 3,840 x 1,440 resolution at around a 25Hz refresh rate, which is far less than ideal. In the end for the MacBook Pro we switched over to a 2,560 x 1,066 resolution, which offered a much nicer (but still not amazing) 47Hz refresh rate. None of this could be done through Apple's stock display settings, so instead we had to use SwitchResX to build a custom resolution.
Things were a little easier on the Windows side of things, so if you're a gamer that will be good to hear. A little more about gaming later.
Great, but how does it perform?
The LG 38UC99 doesn't just look great on the outside – the actual screen is pretty darn beautiful too. In fact, it looks great out-of-the-box, so you don't really need to do all that much to make it look good.
While super high, the resolution isn't perfect does take some getting used to. Because the MacBook Pro with Retina Display has a pixel density of 226ppi, the 110ppi on the LG monitor looks a little blurry, especially when you first set up the display. You will get used to it eventually, but just something to keep in mind. And, of course, if you're using the monitor as a primary display rather than a secondary one, or don't have eyes that are used to the Retina Display, you won't have any issues with that resolution.
One cool feature about the display is that it offers AMD's FreeSync technology, along with LG's self-developed "1ms Motion Blur Reduction." So what do those do? Well, if you do have a computer that supports the display's resolution, FreeSync will help boost the normal refresh rate of 60Hz up to a hefty 75Hz. Motion Blur will smooth out that picture even more, and combined the LG 38UC99 will be up to even the most demanding games and videos.
Speaking of gaming, the 38UC99 really has a lot to offer, and that's partly due to the curve of the screen. Considering how big the display is, plus that curve, gaming on the monitor is really quite an immersive experience.
The contrast on the monitor is quite good at 660:1, but it's still not on the same level as some other ultrawide monitors, many of which hit the 700:1 mark. Still, while blacks aren't as dark as they could be, they are pretty dark – and the contrast will be plenty for most people. That's true of the color accuracy too – colors look pretty damn good, but nothing pops out as much as it could.
In other words, the image quality on this monitor is very similar to other, smaller models. Those models, however, just aren't as impressive, because as we all know bigger is better. Okay, maybe that's not always true, but in this case a larger monitor with the same image quality is certainly better.
Warranty
Normally warranty can be covered off in one sentence, but we want to highlight one of the only negatives about the LG 38UC99 – that's the fact that it only has a 1-year warranty on parts, labor and the backlight.
For a monitor of this price, you really should be getting a longer warranty, and while the short warranty doesn't outright say that LG doesn't have faith in its product, it certainly is suggestive.
Conclusions
The LG 38UC99 is an impressive monitor. It offers near 4K resolution, FreeSync and Motion Blur for top-notch gaming experiences, and is stunningly beautiful.
But do you need the LG 38UC99? Probably not, but you certainly might want it – it's a lot of fun. At a massive $1,500, few people really need this monitor. There are plenty of perfectly good ultrawide options out there for a fraction of the price of this one. But, if you have a pile of cash to spend on a monitor, enjoy the ultrawide form factor, feel like you need something big, and really want the best of the best, then the LG 38UC99 is an excellent – and dare we say the best – choice.
Score: 9.5/10