The word Premium is a proper description for many of the multipurpose WordPress themes included in this listing. Every theme listed here has a great deal going for it. Even the relative newcomers, of which there are several, have already attracted a substantial following of satisfied clients. Every theme in this list has a reputation for ease and flexibility of use, overall quality, and outstanding customer support.
We have included several special purpose, business-oriented themes, some of which you will find towards the bottom of the list. Most of these specialized themes can be used for a variety of website types, but their strength lies in developing Ecommerce sites.
X Theme is the best premium multipurpose WordPress theme on the market according to many, and it certainly deserves the first place on top of our list. With the imminent and much-anticipated release of Version 4, this theme is likely to gain even more adherents.
The crown jewel in the upcoming version is expected to be its new, incredibly powerful and useful, front end page builder. This theme is considered to be the most versatile one in the market. It is fully supported by Themeco, and it is constantly in the process of being updated.
X Theme has been the fastest-selling theme ever. That is unlikely to change anytime soon, especially if Version 4 lives up to its expectations. If you purchase X today, you won't miss out on the fun. The update will be yours free of charge, whether it arrives a few hours or a few weeks after your purchase, and you will of course be notified when it has been released. Subsequent updates will be free as well.
Be Theme is the biggest theme ever. This WordPress theme is living proof that bigger can indeed be better. With Be, you get more than 100 ready-to-use pre-made layouts. You might expect higher quality is some layouts than in others, but that is not the case here.
Each layout has been designed as if the success of the theme depended entirely on it alone. If you couple the number and quality of these layouts with the multiplicity of Be's features, including its clean code, its super-fast page loading, and its ease of use, it soon becomes obvious that this theme has set a standard few others can hope to achieve.
Be is ideal for developing a business or professional website. Browse the layouts, and their professionalism will become apparent. If you don't find a suitable layout, which is rather unlikely, you have the option and the tools to quickly and easily make your own.
Enfold is ThemeForest's top seller, and its reputation for being the best rated of ThemeForest's themes should come as no surprise if you take the time to view one or more of its demos. When you do, you will find the underlying concept lies in a theme that can get your web page or website development effort off to a rapid start.
In addition to its wealth of useful features, and its versatility, this is an extremely friendly WordPress theme. It features one of the fastest and easiest to master drag and drop layouts of any theme currently on the market.
If you find a demo featuring a concept similar to that of your planned website, which should not be difficult, so much the better. This multipurpose theme can be integrated with WooCommerce to create an online store in no time at all.
Philanthropy is a responsive, retina ready theme that is an ideal tool for non-profit or charitable website development as it has a number of featured dedicated for that particular use.
Philanthropy is a ThemeFuse product, and it is one of the more than 30 themes ThemeFuse has to offer. Themes include sports, religion, blogging, travel, business, and more, each of which is highly customizable. Open a no-obligation account, look for what appeals to you, and take advantage of their free trial offer.
Divi has become one of the most popular WordPress Themes ever made. Besides flexibility, multiple features, and ease of use, this theme quickly followed WordPress 4.1 in becoming WPML ready, and it currently features 32 different languages.
Other theme developers, sensing the importance of offering a better global website development tool are getting on the bandwagon, but Divi led the way. This theme features more than 20 pre-made layouts, plus it gives you the option of creating your own. This is also a theme that has never stopped updating and incorporating improvements.
Kallyas' iconic design, coupled with its smart loading features, has made it a great option for the business website developer. It is highly flexible, easily integrated with WooCommerce, it has a very clean design (with a clean code foundation), and it is WPML and WordPress 4.x compatible.
This super-fast, top-selling theme currently serves as the basis for the creation of more than 14,000 websites, which, together with its powerful drag and drop page builder and multiple slider options, may be reason enough to give it a try.
Galaticos has been primarily designed for use by businesses and entrepreneurs. Core features of this HTML-CSS3 (LESS) theme include responsive layout, a revolution slider plugin, and smooth WooCommerce integration. Setting up this easily customizable theme is quick and easy, and a variety of useful demos are but a click away. PHP, CSS, and JS ThemeForest files are also included.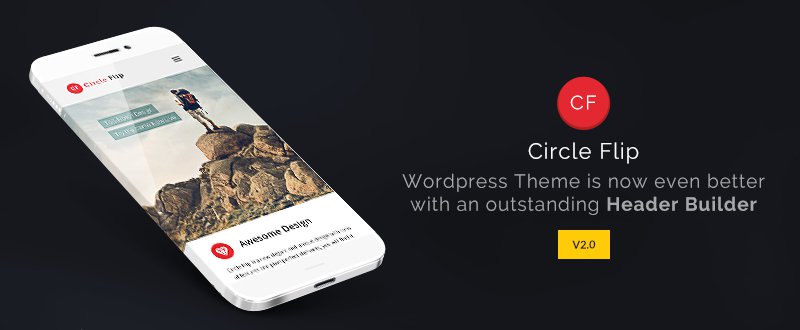 Most multipurpose WordPress themes give you the functionality you are looking for. Some quite naturally do it better than others. A limitation most of them have however, is the lack of a tool that makes designing headers an easy task.
Circle Flip has addressed this issue head on. It now features a unique drag and drop header builder. This, capability, together with its multiplicity of layouts, may make Circle Flip the theme you need.
The ease in integrating with Facebook, in combination with a BuddyPress social networking plugin, has made KLEO the top selling community theme so far this year.
By using this theme as your primary development tool, you can load your website with popular community features, publish your social media-oriented blog, or showcase your portfolio. KLEO is even ideal for creating an online store, but its use as a community theme is where it really shines.
Choco features a Redux Option panel, which they refer to as "promising", but it contains slider, map, and form, and a host of other control features. Choco is available in both WordPress and HTML versions. This relatively new theme has already gathered quite a number or rave reviews that attest to its overall capabilities, and its excellent support. This medium-priced multipurpose theme would be worth a look.
Pivot has not only launched but has just released its 3rd update, and its users are cordially invited to comment on what they would like to see in future updates.  A WordPress job manager function, Virtual Composer, and BBPress support features, have recently been added. Pivot is responsive, and is Bootstrap 3.x, WP 4.1, WPML, and WooCommerce compatible, as well as browser cross-compatible.
Magnis is an Ecommerce theme, and it is being marketed as a corporate multipurpose theme. It is, as you might expect, WooCommerce interrelated and WPML ready. Its Visual Composer drop and drag page builder makes this theme useful for other than corporate and business use, but its strength lies in its application as a business-related theme. Magnis is WordPress 4.1 and Bootstrap 3.x compatible and browser cross compatible.
CleanStart is another business-oriented multipurpose theme. It is advertised has having a strong business look, and as such is WooCommerce and WPML ready. Visual Builder is your page-building tool, and a selection of custom shortcodes have been incorporated into this theme. Other features include MailChimp and a Twitter feed. User features include online documentation and a selection of video tutorials.
Primex, the final theme in our listing, is also a business oriented theme, and it can be easily put to use to create product-based websites as well. Built around an impressive Redux framework and Visual Page Builder, this multipurpose WordPress theme is an ideal choice for users wishing to showcase their work in portfolio fashion. Primex is responsive and WPML and WooCommerce ready. Its clean and simple design lends it to use for any type of website.
Within this listing, we have included a number of premium, general-purpose themes, a non-profit oriented theme, and several themes designed for users having business or corporate websites as their primary objectives. We hope you found an ideal theme for your purposes. If so, we would like to know. If you believe something is missing, or you have a specific theme in mind that you feel should have been included, leave us your comments on that as well.