My name is Mason Ellwood, and I'm currently working on Flatiron School's Online Full Stack Web Development Program. Each week, I'll be writing about my experience, what I'm learning, and tips on learning to code.
So… today for the first time ever! I would like to introduce the new member of the Fyresite team, Mason Ellwood haha. So recently I began working full time as Fyresite's new front-end developer. I can't tell you how timely it is for myself to begin working again and begin writing commercial quality code.
As many of you who are keeping up with the posts I write week by week, these past few months have been kinda rough. Beginning The Flatiron School program, mom having cancer, and working through everything that life does not see coming. I would like to talk a little about how I landed this job and how I was able to fulfill the role that they had designed for me, so you can get a better understanding of the current job market and roles a developer plays in a company.
So like all things, always be on the lookout for opportunities that you may not know will open up to you while speaking to just people you may meet. As I was hanging out with one of my close friends, her roommate came home. We got to talking about what he was up to and he had mentioned that he worked at Fyresite located in the Phoenix area. We began to talk about the position that I was in, and just like it was destiny, he asked if I was looking for a job. I said yes, and we exchanged emails.
I began to speak with Jason the CEO of Fyresite about the opportunity of an interview and he asked for my resume and what languages I was proficient in. Below I have included the sent email, so you can get a sense of how I structured this.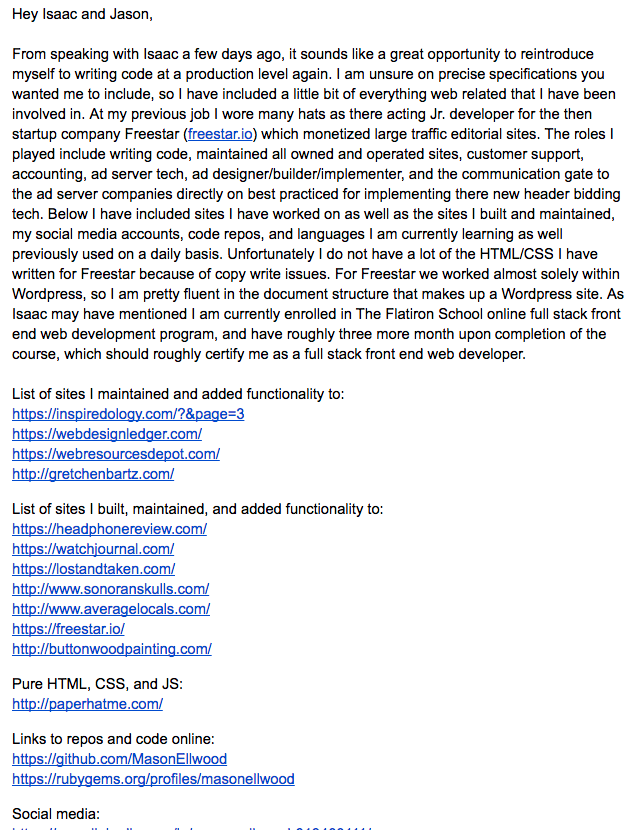 With this, they could get a better understanding of who I was and what projects I have been involved in. Once the interview was set for the next day at 12 o'clock PM I had asked if there was a code challenge for me to present when I came into the interview. Then they sent me mock ups of a site they were currently involved in and I was off. I was granted file permissions to the Sketch file at 9 o'clock PM the night before so this did not give me a lot of time.
So for the next 13 hours, I began to work. I did not sleep that night and worked at basically retraining myself on how to use HTML, CSS, and Bootstrap. With this time I was able to complete two full mock-ups of the given site and I was off to the interview. With my computer in hand, and sleep deprived to the point of a drunken stupor I walked into what could be my next employment opportunity.
In the interview we sat; me, Jason the CEO, and two of the developers working currently at Fyresite. We reviewed the sites I had mocked up for them and they mentioned how much work I was able to get done before the interview because they did not give me much time. They asked what I had expected in terms of payment, and then renegotiations began. They mentioned that for the first three months I would be on contract with the company which would give enough time to see if I had learned to fit the roll appropriately. I was in!
The next interactions were a blur, my first day would be on Monday where I would begin mocking out sites full time for them as their new front-end dev. So far it has been a wonderful experience learning a ton and working with the beast that is WordPress haha.
With this is going to come to a lot of discipline on my part. To finish school, begin a 65-hour course through Treehouse brushing up on HTML, CSS, and Javascript, and writing my weekly post of Web Design Ledger.
But with this, I have found myself realizing, that I do have time. I do have time to get everything done that I need to. I just have to prioritize what is important. I wanted to be successful in my field and hone my craft, and this is the opportunity to gain those skills.
Never settle, and always be on the lookout for opportunities that may arise. You never know what you are capable of once you set your mind to it.
So enough about that! Next time we meet, let's get into Rack and how to use it with Ruby!