A lot of times, service and app websites are a little bit neglected by designers, and this is why finding a well designed service/app site can be a challenge. But if you really dig around, you can find something inspiring, like the ones we will show here today.
From good use of images and type, to videos and navigation, these websites are good examples that you need to deliver a good webpage to present your service or application to attract users. Remember that the user needs to understand what you are offering. So make sure people understand your product/idea and have all the info they need, otherwise you may loose users.
Schedule your hours, and you'll spend no time tracking them. You're already planning – whether it's weekly, daily, or even just a few hours ahead. Move your schedule to Timely, and you will be logging hours simultaneously.
Gain deep, actionable insights in real-time from Localytics, the leading and most powerful app analytics platform.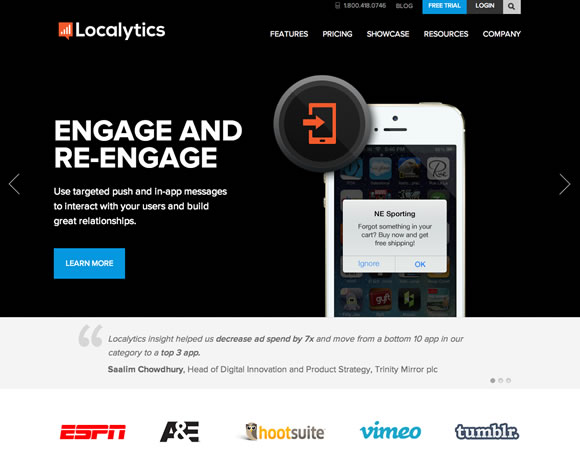 The best way to have an impact online is to create and share great content. Klout helps you do exactly that. Klout helps people who want to be great at social media.
We find local writers to offer tips and advice to help you explore their hometowns. Our guides are designed to be used on the go. With maps and complete three-day itineraries, you'll have unique adventures at your fingertips.
Loomideck delivers: we just simplified the way you can easily communicate, share, collect and use information within your team. Moreover, Loomideck helps you to collaborate more effectively while working on specific goals and projects.
Say goodbye to endorsing, liking and 'working on your profile'. Just carry on being awesome at what you do and WorkFu will automatically recognise your core skills and strengths, and proudly show it off on your profile.
More than just a calendar.
Send and Sign Docs, Fast and Easy. PandaDoc integrates with your CRM and Google Apps, includes industry-standard templates, and lets you increase productivity and close deals quickly, all on the go.
The easiest way to create, share, and discover beautiful stories. Storehouse makes laying out your content so easy that anybody can create beautiful stories.