A small business's success is often based on how well it is able to project its brand, and the way in which it presents its projects or services to clients and customers. Some WordPress Themes can in fact place definite limitations on the degree to which a website can be customized to meet its owner's unique needs.
The7 WordPress theme avoids these design impediments and limitations. It permits a high degree of customization, which in turn yields a number of important benefits.
Making Your Website "Yours"
It's in your best interest, and in the best interest of your business, to have complete control over your website's design.
This is where customization comes into play. A website-building tool that makes customizing easy gives a website's owner greater control over its design.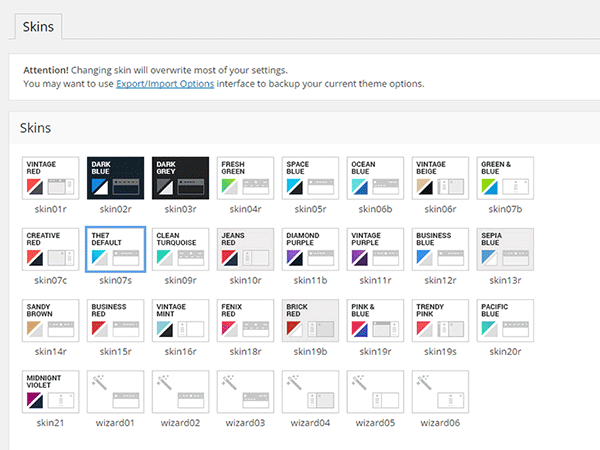 Skins and other customization options that are available in The7 WordPress Theme
This is especially important if someone else is building your website for you, since ease in customizing promotes and simplifies collaboration between designer and client.
The designer doesn't have to go through hoops and hurdles to give you what you want. The7's more than 630 theme options give him more time to be creative, while avoiding having to wrestle with the limitations often inherent in templates while attempting to achieve a certain look.
Branding Takes No Time at All
The7's Theme Option Wizard provides an ideal solution to branding a website. Simply upload the logo, choose the website layout, select the colors and fonts for your page, adjust a few settings, and the let the Wizard do the rest.
Some of the typography customization options available in the The7 WordPress Theme
The web designer can take care of any fine tuning needed, but the fine tuning will usually not amount to much. If the design requires any additional enhancements, incorporating them will rarely be a problem.
Build Strikingly Beautiful Pages Without a Need for Coding Skills
When you use a tool like The7 theme, you don't have to rely on programming skills to get your design just right. Take the The7 theme, add Visual Composer (VC) to the mix, and you can drag, drop, and edit your way to the finished product, without any need for coding.
The VC plugin is so popular, and so widely used, that web designers often use it instead of using a given WordPress theme's recommended page builder. VC is fast and easy to use. Applying this outstanding combination of The7 and VC means savings for the client, and greater productivity and more customers for the designer.
Unique Designs – an Emerging Trend
A few of the page customization options available in the The7 WordPress Theme
No matter whether a business is large or small, the era of carbon-copy or lookalike websites appears to be drawing to a close. Website uniqueness is the current trend. Uniqueness is especially important in business sectors where competition is stiff.
A business's website has to make a statement; and one of the only ways to accomplish that is through a design effort that relies heavily on tools that promote customization. A highly customized website not only makes a statement, but it can be easily updated as needed when you have a tool like The7 theme to work with.
Solid Development and Ready-Made Skins
It seems counterintuitive, but customizing does not need to be accompanied with a hefty price tag. The7 takes the burden of customizing out of the hands of the designer, who does not have to resort to code or to a trial-and-error process to get things right. The7 is extremely affordable.
This theme saves the designer time and frustration, and it saves the client money. The library of 25 skins can be used as-is, or for fine-tuning purposes to make a completed website even more unique.
You Never Have to Say "I Can't Do That"
It's never fun to have to bypass an offer or assignment because you don't have the necessary tools or skill set for the work to be done. If a WP theme does not easily permit a high degree of customization, it will limit what you can do with it.
Creating a truly unique website should not be a challenge as long as you (and/or your client) know the details of its appearance and function; and you have the right tools for the job. With The7 at your fingertips, you can give your clients personalized designs that best fit their business needs.
There is Nothing Like Adding Value to Make Clients Come Back for More
When you build a website for a client, you are taking design ideas or requirements and adding value to them; which is exactly what that client is looking for. Small businesses that decide to do their own work due to limited resources will at times select WP themes that have certain limitations.
These limitations may not be obvious, but they can prevent these businesses from achieving the highly customized websites they are looking for, resulting in money that is wasted or not well spent. Anytime you can offer clients beautiful, custom-designed websites by adding value to their requirements, that added value will have those clients asking for more.
There's More
The7 is more than a theme that happens to feature the popular VC page-building plug in. It features 630+ theme options, the Theme Options Wizard, and 25 skins. In addition, the VC functionalities have been expanded through the Ultimate Addons and The7 Elements features.
The Ultimate Addons feature significantly extends VC's potential. These extras, which come at no extra cost, allow you to build any imaginable, highly-customizable layout to showcase and impress visitors.
All of this can be summarized rather succinctly. The7 is the most customizable, and most easily customizable WordPress theme on the market. It has all the tools you need to build a website that can keep pace with an emerging marketing trend – unique websites that truly belong to their owners.