Did you ever try to work in a straight line from the beginning to the end of a design project? If yes, you may have discovered that your design concept didn't work out quite as planned. Perhaps, it didn't even work out at all.
Prototyping is an effective way to prevent such occurrences from happening. Any extra work involved in building a prototype usually pays good dividends!
Prototyping significantly speeds up the design process. Moreover, it helps spot errors that would involve greater expense during later stages.
Finding the right prototyping tool need not take a lot of your time. The three featured here, are the best of the best.
Both low- and high-fidelity prototypes serve useful purposes. Whether you want verification that your design concept is valid and workable, or you wish to user test your design before handing it over to a developer, Proto.io will be a great choice. It is a powerful and easy-to-use prototyping tool.
You can start using it right away, since design or coding skills are not required to use it.Once you add Proto.io to your toolkit, you'll be able to do your design and prototyping work, share information, provide previews, and collaborate with project stockholders – all on a single platform.
Proto.io's Dashboard helps you maintain strict version control and supports your collaboration tasks. The Editor provides the functionality needed to build your prototype(s). The Playerplays an essential role when you need to share a prototype with others, conduct testing, or view change results on your browser.
You have the option of designing a prototype from scratch using the Editor, or importing design and design information from Photoshop or Sketch.
Design Systems by UXPin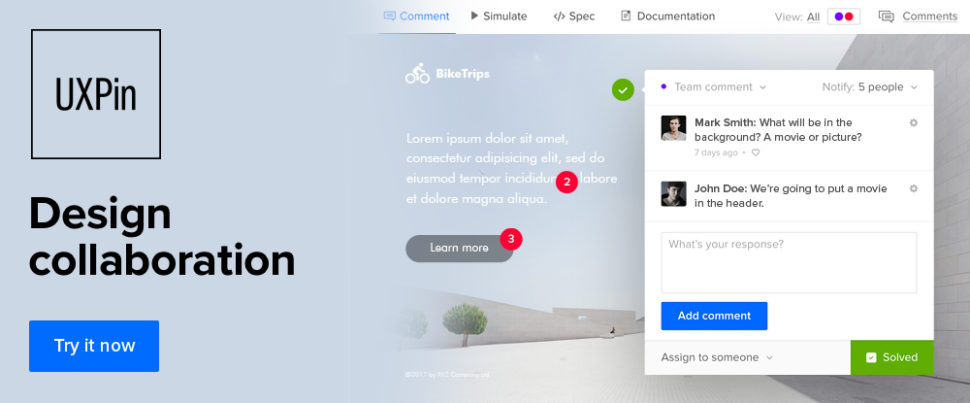 If you're in the market for an end-to-end UX design tool, UXPin is your best bet. The market is saturated with prototyping tools, but UXPin seems to be the only tool that doesn't just excel at prototyping, but also tackles the more complex challenges of workflow, design consistency, and developer collaboration.
This cloud-based platform supports the whole UX process in one place: design systems, prototyping, documentation, collaboration, and developer handoffs. UXPin also integrates with Photoshop, Sketch, Jira, and Slack to create a more connected workflow.
One simplified workflow we found useful was creating your design system in UXPin with Sketch assets, then quickly prototyping in UXPin, collecting feedback in UXPin and sharing in Jira, then generating specs and style guides for developers in UXPin.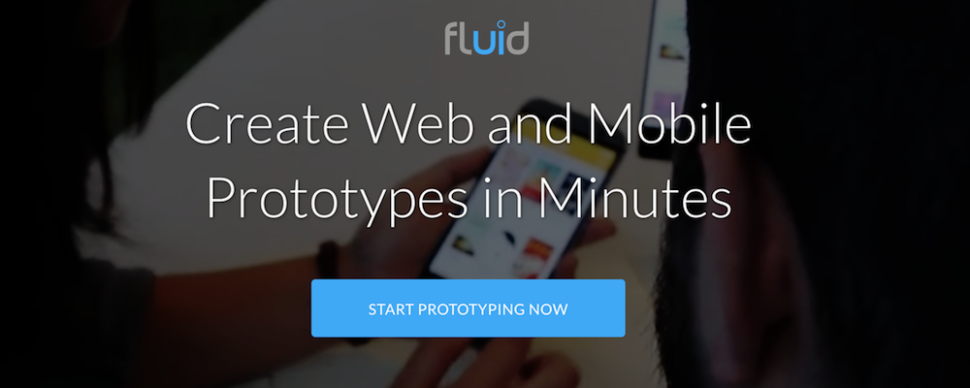 Fluid UI is a user-friendly wireframing and prototyping tool designed to improve communication between web designers, developers and product managers.
Without ever leaving the platform, you can design, start interactive video sessions and chat and comment in real time whether designing or just previewing. Fluid UI is especially effective when working with distributed teams – whether in the same office, or on the other side of the planet, it doesn't matter.
Fluid UI also contains a comprehensive series of built-in libraries that support wireframe and prototype design, material design, and design on iOS or the web. You can also upload your existing designs.
Three subscription plans are available, but you might first want to see what Fluid UI has to offer by signing up for its single project, "Free Forever" plan. Unlike other tools, Fluid UI also has the advantage of allowing you to store your data for free between projects.
Why Prototyping is so Important
To ensure you'll accomplish your goals, it's important to test your ideas as you progress. This is much more preferable than work straight through.
Prototypes provide insight into the performance of a site's functionality. They tell you when changes are needed to ensure the product will be a pleasure to use.
Prototypes help you:
Define your design goals and ideas, refine them, and allow them to evolve
How to get the maximum benefit from prototypes? You need to create a series of them to check your design as you progress.
This process is often referred to as rapid prototyping. Such approach will help you deliver a high-quality design in less time.
Determine what works, what doesn't, and what could be made to work better
A cool idea doesn't always magically morph into a stellar design. If you're going to make a pitch to a client, it's not a bad idea to first see if your design idea is practical and feasible. Low-fidelity prototypes are particularly effective in demonstrating the practicality of a design concept.
Once practicality established, further prototyping can be extremely useful. Use it to validate and improve your design's performance characteristics and functionality!
Identify easy to overlook design errors or problems
You don't have to wait until user testing to uncover any remaining problems. Doing so can cost you extra in terms of time and money.
Problems detected early on are generally easiest to fix. By using prototypes, you're more apt to detect problems that would otherwise go unnoticed.
Collaborate and communicate more effectively
Prototypes, especially interactive ones, contain vastly more valuable information than text or slideshows.
Prototyping can reduce a day-long product review meeting to an hour or less in many instances. This is also relevant when communication tools like video or live chat are put into play.
Summary
A prototype can be viewed simply as a useful design aide, but a good prototyping tool offers much more. It does not only speed up the design process! It provides an excellent means for early-on detection of hard-to-find design errors.
Those chosen here, stand for the best of the best in terms of functionality and performance.