You're a web design professional in need of a coding agency to help you bring your project to a satisfactory conclusion. Where do you turn?
An excellent solution would be a remote coding agency. It's simply a matter of locating an agency that specializes in coding, has been in the business for some time, and obviously knows what they are doing.
An ideal match will be an agency known for:
the quality of its work, and for following good work procedures.
its transparency, with each coder's willingness to take on responsibility.
rapid reactions to crisis situations, and the ability to meet agreed upon deadlines.
experienced remote coders who are good at what they do, and who have important assignments from key clients under their belts.
There is such a development agency; one you will enjoy and profit from working with.
Tips on Working with a Remote Development Agency
Xfive is a remote development agency with an interesting history and an appealing work ethic as well. Xfive started 10 years ago as a group of freelance coders who decided to work together to make it easier to provide services to large and important clients – Twitter, Threadless, and Fox Enterprises, to name several. It eventually became necessary to establish physical offices, so they could work and communicate better between themselves and with their clients.
Currently working out of several offices, and with a number of remote employees, the Xfive team has built an impressive internal structure, and put in place a set of work procedures along with a company culture that would make employees of most companies envious.
Communicate Deadlines Starting with the First Discussion
This is important. A flexible, client-oriented agency can adjust its workforce and its workload when necessary, to assure your project will be ready when promised.
An example of this situation is Xfive's collaboration with Luminus Networks, a startup that provide network administration tools. The client wanted to launch the website very fast: "We had a really short deadline to work on the website and I actually didn't think that anyone would be able to pull together with our website. But I contacted Xfive and thought 'well, they'll chop the design at least'. And I was really surprised that they were able to say "Yes, we can do it"! Then I think the first draft was delivered like the day I had it scheduled. So it hadn't even been a whole day you worked on it" says Caryn, from Luminus Network.
Discuss a Plan and Its Timeline
When you work with a professional development agency, expect a Project Manager to take charge of your project. This designated PM will coordinate project activities on your behalf, take care of everything for you, and report progress. At the outset of the project, you should expect to receive a plan proposal from the PM that outlines project tasks.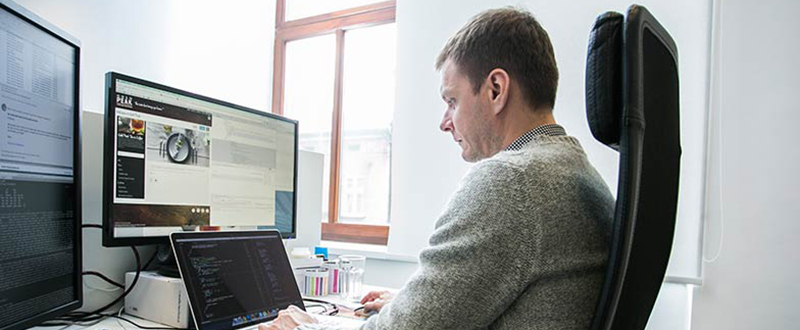 Have Weekly Report Meetings
Working with a remote agency doesn't mean that meetings are not important nor practical. Quite the opposite is true. Unlike many meetings that take place in a meeting room, remote meetings tend to be brief and to the point.
A weekly 20-minute Skype call may suffice, to discuss:
tasks completed and delivered that week; with verification of compliance with the brief.
a discussion of upcoming priorities and deadlines.
Agree Upon the Project's Specifications, and Stick with It
Before you seek agreement on your project's specifications, double-check to make certain they are complete and correct. This is where you want to strive for perfection. An incomplete or erroneous spec can require changes, which in turn can lead to additional time being spent on your project and missed deadlines. Even the simplest modifications can at times require substantial code changes.
Xfive Team members also provide project consultancy. They can help you select the right technology, note possible shortcuts that could save time and money, and advise you upfront if they see problems that may require adjustments in your specifications. That's the type of consultation and collaboration you want to have.
Remote vs. Local Development Agencies
The agency down the street may serve you well for certain types of development projects, but working with a remote development agency has its advantages – many of them in fact.
A remote development agency likely serves an international market, they have served large clients, and they have a professional staff that is more than capable of taking on projects large and small, and projects of varying complexity and varying degrees of criticality with respect to deadlines.
With a large and diversified staff, as is the case with Xfive, a remote agency is in a better position to fully understand your needs, and can place your project under the types of controls that will ensure you will receive a high-quality deliverable on time.
The Xfive team works on three continents. Between the office staffs and freelancers, language is never a problem. You'll never find yourself caught up in a communications gap because one side does not completely understand the other. You can always expect quality service, and an affordable price. You will also find that working with Xfive is a pleasing experience, and that you may even learn some useful things about your own projects.
About Xfive
Xfive is a popular new brand that has helped thousands of clients over the past decade, much of that time under the XHTMLized name.. The new name focuses less on the widely-used programming language, and more on the agency culture, where high fives for work well done are a common occurrence. Not only does this culture place an emphasis on employees working together, but on reaching out to their clients and customers as well.
Clients not previously mentioned, include Microsoft, Rogers, and eBay. Xfive has also worked hand-in-glove with numerous digital design and creative agencies and startups. The Xfive team always looks forward to the opportunity to act as an extension to your project team, whether you are a major corporation, a startup, or an individual who has a good idea.
If you are looking for a source for full-service solutions, and one that can expand your capacity for project deliverables, Xfive is that source.