Every WordPress site owner has their toolkit of plugins they can not live without. Usually it includes solutions for SEO, caching, security, and other improvements. It's an awesome thing about WordPress that in its Plugin Directory there are more than 32,000 different plugins, allowing you do almost whatever you want with your WordPress-based site.
It's a challenge to find what you need or sort these 32k plugins, so I decided to share out must have WordPress plugins that will be supercharge you to success. Here you'll find essential plugins on SEO, Pinterest, comments, speeding up your website loading, optimizing your images, and many more. So, scroll down and enjoy!
With this plugin you'll know exactly which factors are important and impact search results. It shows the snippet preview the users would see after publication the post in search results.
Akismet lets you to review all comments in WordPress dashboard before they go live. It prevents your blog from being filled with spam comments.
jQuery Pin It Button For Images is a great plugin that allows you to pin images to Pinterest directly from your site or particular page. It adds a Pin It button to all the images. Moreover, you can upload your own custom Pin It button.
This plugin lets you to quickly eliminates 404 errors by redirecting any error page to the homepage. Moreover, if someone visits the site from a broken link, he would be automatically moved to the homepage.
This plugin displays all important Google Analytics statistics right in your WordPress dashboard using beautiful charts and graphics.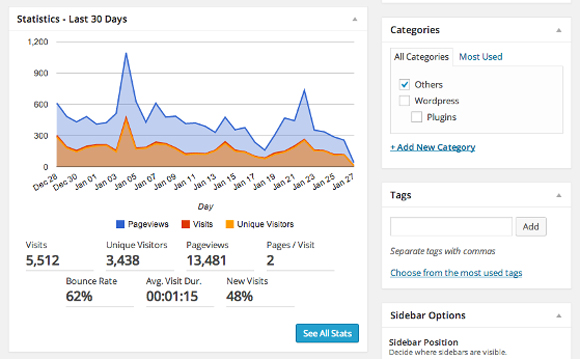 MotoPress is a brand new awesome plugin which allows you to drag & drop any WordPress element and see the end design right off the bat!
If you have a slowly loading website it could lead to clients leaving and never getting back.
This plugin speeds up your website loading process.
UserPro plugin gives you the power to provide your visitors rich user experience with improved profiles. This plugin is exactly what you need to increase engagement on your WordPress community.
This plugin would help you to convert an HTML website theme into WordPress with ease.
Digg Digg plugin lets you to install all-in-one social sharing toolbar on your website which displays on the pages and posts you want.
MailChimp for WordPress is the best plugin to get more email subscribers. just add sign-up and sign-in checkboxes to your site.
Do you know the tool Smush.it by Yahoo? It's the same image optimising service, but made for WordPress. It allows you to strip metadata from JPEGs and optimize JPEG compression.
This plugin is made for those who would like to make good money with Amazon.
WordPress Related Posts plugin will give you a power to add related posts to any page you like.
Have you ever thought that site search is one of the most important tools on your website? This plugin will replace your default site's search into a partial-match search that sorts through results by relevance.

What's in Your Plugins Toolkit?
I hope this collection is helpful for you. Don't hesitate to share the plugins you use to make WordPress more useful, convenient, and cool!