You've heard the saying before, "The money is in the list." This is true, but exactly how much money is in the list? A lot, apparently: The guys at Monetate analyzed over 500 million shopping experiences and found that email beats search and social media combined as the biggest driver of conversions. Compared to 1.95 percent average conversion rate for search and 0.71 percent average conversion rate for social media, email resulted in an average conversion rate of 3.19 percent. This fact was further bolstered by data from the Direct Marketing Association that revealed that marketers can expect a ROI of $38 for every $1 they invest in email marketing.
Now that it's been established beyond the shadow of a doubt that email outperforms pretty much every other channel, how do you ensure that email works for you? It is by having the right tools. Here are 15 must use tools for email marketers; these include some less-known tools that are helping people get amazing results, so enjoy.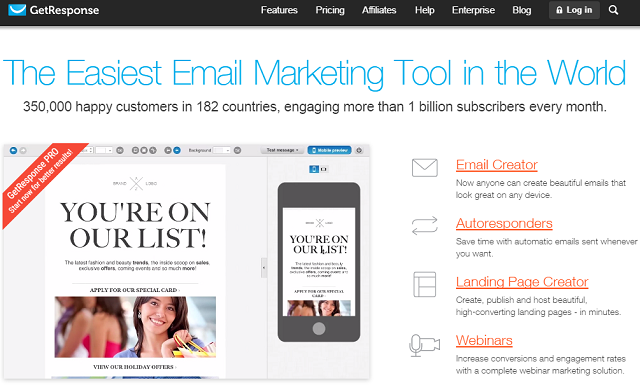 If you want to succeed at email marketing, you need a reliable email service provider; going with the free Feedburner, or a cheap email service provider, is not recommended. GetResponse has the basic features – such as the ability to send an email, view subscriber info, etc – that most email services have, but they take things up a notch with the ability to split test any part of your email. Their "Email Intelligence" feature also lets you see how your emails are performing at a glance, and their "Inbox Preview" feature allows you to see how your emails will look in pretty much any email service (Gmail, Yahoo! Mail, etc.).
Many people are familiar with GetResponse and Mailchimp, and all the popular email service providers out there, but the big boys now have to keep looking over their shoulders; ConvertKit is new to the game, but it is different. ConvertKit separates itself by focusing on two things: Simplicity and automation. It boasts of allowing people to setup their list in five minutes; it is marketed towards professional bloggers, but it can serve anybody that needs a reliable email marketing service.
Optin Monster is probably the most well-rounded plugin out there for capturing more email subscribers; some of their features include a Full Screen Takeover (this takes over your site, putting your optin offer front and center in front of your subscribers – in the process boosting subscriptions), a Popup feature, an Exit Intent popup and, more importantly, the ability to split test your opt in forms. Several big name bloggers rely on this plugin for their list building.
SumoMe is one of the most popular, all-around free giveaway plugins available today; unlike most list building apps that only come as WordPress plugins, SumoMe can be used with any website. Their Welcome Mat feature allows you to use full screen takeovers to build your list, and people have reported getting thousands of extra subscribers as a result. They also have scroll triggered opt in forms, popups, and opt in forms that can be inserted directly into your content.
You've probably witnessed one or more of the WebDesignLedger giveaways? For a more recent example, you can take a look at the Jupiter Business WordPress Theme giveaway to see a WDL giveaway in action. These giveaways are powered by the KingSumo Giveaways app, and if done right they can be a good source of email optins.
For example, a notable example of someone who tapped into the power of the KingSumo app is Josh Earl, who was able to add 200,000 extra subscribers to his email list in just 11 days.
KingSumo Giveaways allow you to turbocharge your list building by running viral giveaways. The plugin has a lot of features, including the ability to schedule the start and end dates of your giveaways and the ability to run unlimited giveaways.
If you use AWeber, you've probably been frustrated at a point due to their lack of automation features. While they are slowly introducing automation into their service, they are not yet perfect. AWProTools handles automation for AWeber, by giving you the option to move subscribers from one list to another depending on which part of your follow up sequence subscribers are in, by allowing you to segment your list based on clicks, etc.
It can be frustrating to send emails that look perfectly okay at your end only to start getting emails from people who use different email clients, complaining that your email to them is broken. Litmus helps solve this problem; they let you test and see how your email will look in over 40 different email clients. They also make it easy to know when fans print and forward your messages, as well as how long people spend reading your messages.
If you don't want to pay the expensive monthly subscription fees that most email service providers charge, then you might want to go the self-hosted route: This way, you have the software that manages your email hosted on your servers. InterSpire Email Marketer is one of the best solutions for this; it features includes analytics and tracking, the ability to enable double vs single optins, ability to use an autoresponder, the ability to schedule emails, etc.
If you self-host your email platform, it can be risky sending emails directly through your servers; in no time, your IP could be flagged and you'll find yourself shut down by your hosting provider. The solution to this is to use an email delivery service, and SendGrid does a perfect job of this. More importantly, it offers a lot of basic features for free. SendGrid comes with easy integration via API, real time analytics, and encrypted email delivery.
Benchmark is an email service provider with a focus on responsive, mobile-friendly emails. They also offer real-time reports that show you how people are interacting with your emails. More importantly, if you are big on media, they have an email editing tool that allows you to edit images in their dashboard without the need for you to have Photoshop. They have a free plan with limited features.
If you find the default opt in forms of your email service providers ugly, OptinSkin is for you. OptinSkin allows you to create dozens of beautiful optin forms to be strategically placed on your blog, and they make it easy to integrate these forms with any email service provider.
MailMunch also allows you to create beautifully-designed forms that you can place on your website to capture leads; this includes pop ups, slide in forms, and header bars. Their forms are mobile optimized, and they make it easy to split test your forms for conversions.
Similar to OptinSkin and MailMunch, Thrive Leads allows you to have beautiful opt in forms on your website; their drag-and-drop editor makes it easy to customize your optin forms to your look and feel, and their advanced targeting features are second to none. They also offer A/B testing and actionable reporting.
Many email service providers are slowly realizing the importance of email automation and are making it a part of their features. Route, however, focuses solely on automation and works in a way where actions trigger reactions. It can be powerful for boosting sales and following up with subscribers depending on what action subscribers take.
If you have HTML email/content that you'd like to convert to plain-text version before sending, MailChimp's HTML to Text Email Converter is the tool you need. It does exactly what its name implies, and you do not need a MailChimp account to use it.
Conclusion
What other email tools would you like to add to the list? Kindly let us know by commenting below.