Page builders have become essential tools for freelance web designers. Many of them do not require programming knowledge or experience to use, many give the designer a great deal of creative flexibility, and most of them are huge time savers. Web designers also benefit from the use of these tools in terms of increased productivity and higher quality output.
Not all WordPress page builders were created equal however, and there are 5 major characteristics you should take into account when looking for a complete page builder. If you take the time to do so, you will find that most of the page builders on the market today come up short in one or another of these 5 characteristics.
Look for an Intuitive Page Builder
An intuitive page builder doesn't keep you referring to its user's manual for help. It acts as if it is always one step ahead of you. It's a matter drag, drop, and edit, and as far as what the next step is, the answer is there even before you ask the question.
An intuitive page builder will get you into an adding and editing rhythm and get your creative juices flowing. Look for a page builder that will make you an expert, or at least feel like one, in no time at all.
Look for Flexibility
When you select a page builder, look for one that has a wealth of features. This is a case where more is definitely better. The more features there are, the greater variety of things there are that you can do, and the more creative you can be. Combine ease of use with the flexibility a multi-featured page builder offers, and you have a powerful development tool at your disposal.
Features to look for will depend on the type of website you are interested in, but features like widgetized sidebars, multiple header formats, social media buttons, FAQ sections, forms, tabs, and WooCommerce features, will make your design efforts much easier.
Look for Adaptability
A quality page builder should be able to help you build complex websites. Website complexity simply means variety. Look for a page builder that will carry you well beyond having an ability to mix images with blocks of text.
Very basic text and image positioning capabilities will not take you very far if your goal is to build an eCommerce website that will highlight an array of products, if you wish to incorporate portfolios or galleries, or if your objective is to create a professional-looking website for a business or corporation.
Be Aware of Constraints
Some themes come with their own page builders. Some do not. Conversely, some page builders can be used with some themes, but not with others. There are page builders on the market that can only be installed on a few WordPress themes, and there are a few that can be installed on most themes.
There is no need however to limit yourself to specific page builders or specific themes. Look for a page builder that satisfies the three criteria discussed above, and one that can be used with any WordPress theme and you will end up with the best of all worlds.
Choose a Page and Post Builder
Finally, if you intend to create posts that feature beautiful layouts rather than page after boring page, you will want to use a page builder that enables you do that, and you will not have to rely quite so heavily on a dedicated theme. A page and post building tool allow you do use virtually any theme for either purpose.
Combine this feature with ease of use, flexibility, an ability to create complex websites, and theme independence, and you have found the ideal page builder.
Case Study: Visual Composer – Page Builder for WordPress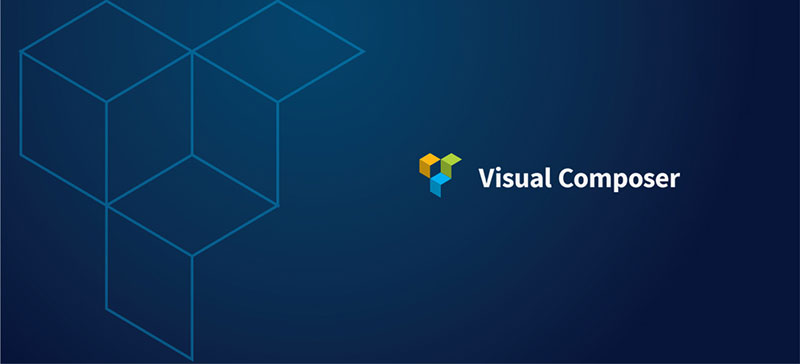 What would be an example of the "ideal" page builder; one that is intuitive, flexible, and can be used with any WordPress theme? The answer to that question happens to be the most popular drag and drop page builder plugin one the market today, and one that has powered development of more than half-a-million website.  It's Visual Composer.
Something to consider – VC is incorporated into many themes, including many of the premium themes, and for good reason. VC has achieved a reputation as being one of the best and most useful WordPress plugins on the market today, so it only makes sense that a majority of WordPress themes have incorporated it. Some themes however have chosen to disable certain VC features, and they do not automatically install VC updates, nor do they provide VC support. VC support, instant updates, and the page builder's full range of features are available only if you buy a license.
Quick and Easy VC's page building functions are so quick and easy you may feel at times your page-building process is barely under control. The truth is, its frontend and backend editors keep you in full control of your WordPress site-building efforts at all times. No programming knowledge is required to build virtually any layout. It's mostly a matter of drag & drop and edit.
What you see is what you get. – Some page builders and themes are built around an admin panel that serves as the point of control. Visual Composer does much the admin work for you. It provides you with a true "what you see is what you get" experience, since you can readily see how your page will display on any of the standard displays and devices.
Premium Themes are not mandatory – You want your website to be unique, and Visual Composer takes that into account in that it can be used with any WordPress theme. While the power of VC, together with the features embedded in a given theme, can often take you anywhere you want to go in your design efforts, VC is also an excellent standalone website building tool. Depending on your objectives, you may not need to invest in a theme at all.
All the flexibility you need. – VP brings to the table more than 40 available grid styles together with 45 content elements (at last count), to give most website developers all the flexibility they need. The content elements include a video player, the aforementioned widgetized sidebar, maps, buttons, tabs, charts; and much more.
Whether you chose to use it with or without a theme, Visual Composer is by far the most versatile, flexible, and complete page builder on the market today. The fact that many themes include the VC plugin only highlights its popularity within the website development community.
VC is a powerful tool that does not include a learning curve among its wealth of features. It is an excellent choice, and is highly recommended for anyone who needs to create responsive page layouts quickly and easily.