Designs of the Eastern world habitually receive a bad reputation. I am by no means an expert on Asian culture, but for example I understand that historically one in four users in China were still using Internet Explorer 6. Google Chrome is now on the rise with a 30% market share, and with statistics like that comes more support for modern HTML5/CSS3 standards.
Following this theme here are 10 oriental restaurants that follow great design trends. Not all of these restaurants exist in Asia specifically, but they all rock an oriental theme which definitely suggests web design & user experience is maturing in the East.
Oriental doesn't have to mean Asian. It can also span to the Middle East, Far East, and in some cultures, North Africa. Ali Baba Lebanese Cuisine from the island of Malta uses a very simple design to tell a story with beautiful imagery.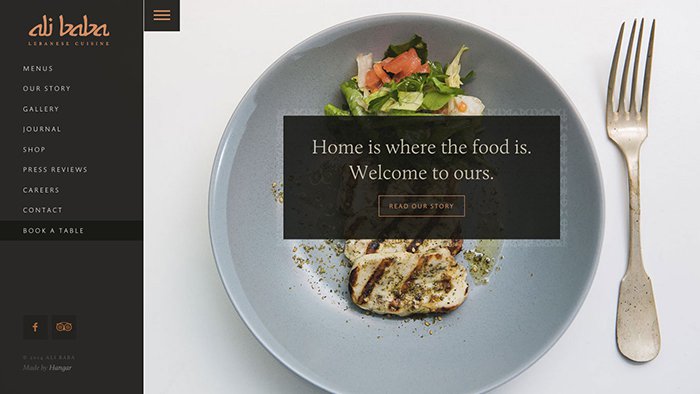 I usually avert my eyes when I accidentally come across a flash-designed website with auto-looping music. But if you can find a way to enjoy the ambience of the experience it's actually a very beautiful site using traditional Japanese floral art with warm brown, beige and red colours.
Daimu is a Japanese Restaurant in Brazil. Its sleek parallax website tells a visual story of the elegant craft, artistic culinary demand and raw passion behind this restaurant.
In many Asian cultures, yellow is considered to be the most beautiful colour; the center of everything, a symbol of neutrality and luck. So while La Dogana is in Rome, traditional oriental colours have still been mixed with western design styles to create a unique blend of fusion cuisine.
I bet you didn't know that Hello Kitty had their own restaurant too! Hello Kitty is a huge worldwide brand that has always used traditional red and yellow (or gold) colours where red symbolises fortune, joy and happiness in Chinese culture.
Gold again. As we start to move into more old-school restaurants, red and yellow will be more in the foreground, but something else that you might notice with food websites is that they are much more visual than they are wordy. Expect image carousels!
Yep, here's the carousel again, but one thing I haven't mentioned until now is the use of white, which emphasises brightness, clarity and fulfilment. In design, especially Japanese design, it can be used to highlight extra focus on the subject by neutralising other surrounding elements – minimalism.
Jungsik is a Korean Restaurant that was voted the 10th best restaurant in the whole of Asia. Although I took a look at 1-9's websites and they didn't have anything on Jungsik.
White can often mean the same thing as gold because of white gold, so those two colours put together offer an overwhelming sense of illustriousness.
Quite modest as far as restaurant websites go, but that reflects Betelnut's atmosphere of street food and beer in the bustling city of San Francisco. The betel nut is a tiny nut found in Asia.
Hopefully you're starting to notice the structure of Asian colours and what they represent. Here's another one Megumi Sushi that uses yellow. Black is another important colour, considered to be the most honoured, but otherwise used as a neutral colour such as in clothing or to directly contrast white.