Blogs, just like business or eCommerce web pages, should be functional and a pleasure to read. Responsivity is of the highest importance when it comes to building such a web resource. More and more web users prefer browsing sites and reading the latest news on mobile phones or tablets when on the go. That's why the ability of your web page to adapt to any screen resolution plays a tremendous role today.
With the purpose of helping you build an impressive and responsive blog, we have hand picked 20 stunning blogging WordPress themes that are ready to go, out of the box.
1. WildRide Blogging WordPress Theme
WildRide is a clean and minimalist WordPress theme that is best suited for blogs and personal sites. Fully licensed under GPL v3.0, the theme can be used for as many websites as you wish. While tweaking its design to match various web projects that you are planning to launch, the theme can be used for multiple purposes, with no restrictions at all.
The theme is simple in both navigation and customization. With the purpose of facilitating its customization, the theme's developers have added WordPress Live Customizer to the pack. The latter allows you to apply changes to the layout, the theme's color scheme, positioning of different content blocks, and so much more, in real-time. The theme's installation has been made no less simple and intuitive. Intended for users of all skill levels, the theme can be installed in three steps.
As a fully-fledged blogging theme, WildRide features multiple variations of blog layouts. Several header and footer options are available as well. It goes without saying that the fonts and colors of the theme are fully customizable as well. Custom widgets have been added to help you expand your blog's functionality with ease.
2. Blogetti WordPress Theme
Blogetti is a 100% GPL blogging WordPress theme that is best suited for restaurant and cafe blogs. Its two-column layout is perfect for organizing loads of data in a well-balanced way. Owing to the advanced Bootstrap functionality, the theme's layout can adjust flawlessly to any screen resolution. It is compatible with such popular WordPress plugins as WPML, Google Analytics, Gravity Forms, WP Pagenavi, W3 Total Cache, and so many more. SEO optimization and lightweight design ensure higher ranking in search results.
The theme was made both user-friendly and visually impressive. Retina ready appetizing images of your culinary masterpieces will hardly leave true gourmets indifferent.
3. Style Park WordPress Theme
Style Park is one of the best blogging WordPress themes on today's list. It was designed to appeal to true fashionistas. Just take a look at its bold layout. Rich in retina ready images and banners with hover effect, the theme is both easy to navigate and a pleasure to watch. Card-based content positioning, readable fonts of different colors and sizes, catchy headlines, and other smart tricks provide for better content hierarchy. Social sharing options, video integration, newsletter subscriptions, and other navigation elements have been organized into the right sidebar. Thus, the users will always have access to the sticky menu and other navigation options when reading your content. Btw, the theme is 100% GPL.
4. Fitnesys WordPress Theme

Fitnesys is a flexible responsive GPL WordPress theme. It comes with three homepage layouts – default, grid and masonry. Fitnesys makes use of a sticky navigation menu, which makes finding a specific category or page of your website a breeze for the visitors. This theme could be used for websites related to sports, health and similar topics.
5. Kustrix Blogging WordPress Theme
Fashion and beauty blogs will look amazing when built with the help of this GPL WordPress theme. Its two-column layout is fully responsive and will adapt smoothly to any screen resolution on which your website is viewed. A number of custom page templates and widgets have been included in the template for a quick start. Every element of the design is fully customizable, so you can tweak its look and feel just the way you want. Made super lightweight and user-friendly, the theme has been optimized for speed and SEO requirements which increases your chances of reaching the top of the search results. The theme can be managed by both design gurus and beginners equally well. A rich pack of customization options, detailed documentation and free 24/7 support will always come in handy.
Special Offer: WordPress Theme Bundle

Good news! The first 5 WordPress themes featured in this article are available as a bundle for only $45.
This means you can get 5 Blogging WordPress themes for the price of 1. Of course, these themes are built especially for bloggers. Moreover, they can be used multiple times as they're 100% GPL.
But, if you want to save 80% on premium blogging WP themes you'd better hurry up because the offer expires on April 8th, 2016.
6. KingNews WordPress Theme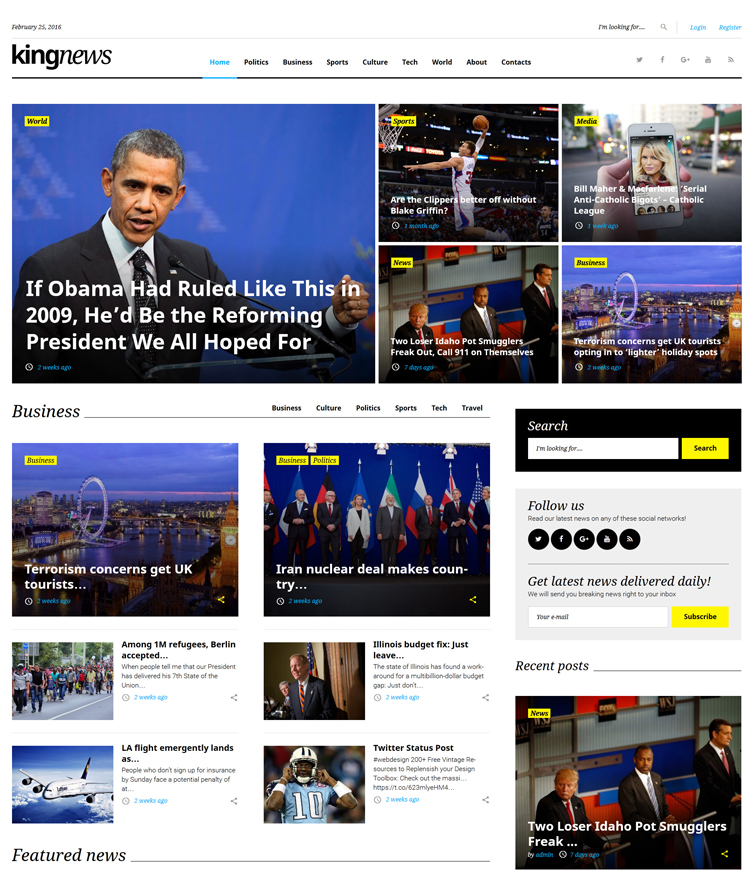 KingNews is a fully-fledged responsive blogging WordPress theme that was developed specifically for online magazines and news portals. Being also licensed under GPL v3.0, the theme can be used for a variety of web resources that you plan to launch or update. Just tweak the design and make it live.
With the purpose of helping you reach international audiences, the theme has been made translation ready. Just like the previous two themes, KingNews features an integrated WordPress Customizer, which allows you to see results of the theme's customization in real-time, without the need to reload the page constantly.
7. HostPro WordPress Theme
Hosting companies and Internet providers can use this theme to their benefit. Focused on the effective presentation of your data in a clear and concise manner, the theme features an intuitive and easy to follow layout. Flat style and white space enhance the theme's readability. Full-width images, enhanced with the parallax scrolling effect, harmonize perfectly with the minimalist design of the theme, providing for a more interactive browsing of the page.
The theme features everything that you need for a quick start to your site. Layered PSD files, custom page templates, a set of WordPress page templates, Google web fonts, several cool gallery scripts, and a whole lot of other smart features have been added to the package.
8. Effective IT Solutions WordPress Theme
When choosing this theme you will enjoy all the advantages of Cherry Framework 4. Intended to be easy to manage by users of all skill levels, the theme is both simple to install and customize. The installation Wizard plugin was integrated to help you get everything installed with a click. For more experienced users, there is also available an option to install all of the theme's components manually.
WPML ready, the theme has been enhanced with such pro WordPress plugins as MotoPress Content Editor and MotoPress Slider. Available for the theme's owners at absolutely no cost, these two will significantly speed up and facilitate the theme's customization.
Demo | Details
9. Web Design WordPress Theme
Choose this theme to exude the professionalism of your web design agency. The fully responsive and retina ready layout of this theme will make your site look razor sharp on the latest generation devices. The parallax scrolling effect enhances the visual presentation of sliders and full-width backgrounds. Pre-loaded with several gallery scripts and cool animation effects, the theme will capture attention of every web user. WPML support, Contact form integration, a set of Google web fonts and Google map, a rich variety of custom post types and layout variations, and a host of other great options will help you attain the desired results in no time. Yes, this theme is great, but we have some more blogging WordPress themes to show you.
10. Adv Blogging WordPress Theme
Advertising agencies will look professional and trustworthy when building their blogs or official websites with the help of this blogging WordPress theme. The clean, flat style of the theme allows you to bring content to the focus of attention. A fully customizable MegaMenu provides the users with quick access to all of your site's pages. Though the theme's header is not sticky, a back-to-top button will help them reach your site's menu with ease. The theme is fully responsive and crossbrowser compatible. An integrated newsletter subscription form in the footer invites the users to stay updated regarding your latest news.
11. Supreme WordPress Theme
The list of blogging WordPress themes would not be complete without Supreme. This theme runs on Cherry Framework 4. Compatible with all the latest WordPress versions, this theme ensures smooth performance across all devices and web browsers. The classic black and white color scheme of the theme will make your fashion or beauty related web resource look smart and casual. Placed on the minimalist layout, full-width images with the parallax scrolling effect and video backgrounds look even more captivating. Unlike the previous theme, Supreme boasts a sticky MegaMenu. The theme's footer has been enhanced with built-in Google map with tooltips support. Social sharing options harmonize perfectly with the rest of the layout, providing the users with a quick way to share their preferred content on Facebook or Twitter.
12. Jo Invest WordPress Theme
As the name implies, the theme is best suited for investment, financial and business sites. The clean and concise layout brings your site's content to the focus of the users' attention. Neat niche-specific icons guide people through your content effortlessly. A drop-down menu is fixed to the top of the theme. The theme comes integrated with social media, so there will be no need to install third-party plugins on your blog. The contact form and newsletter subscription options will help you build a rapport with your audience.
13. Gadnews WordPress Theme
This theme is best suited for new portals, magazines and blogs. A card-based layout structure makes it both trendy and user-friendly. Content is surrounded by white space, which makes the design look more spacious and well balanced. Instead of the traditional carousel slider, the theme's header features a banner representing the most-read blog posts. In addition to the section of the latest publications that occupy the central space of the theme, there is a carousel gallery above the theme's footer, introducing the users to a sequence of the most trending topics on your blog.
14. Web Design Agency WordPress Theme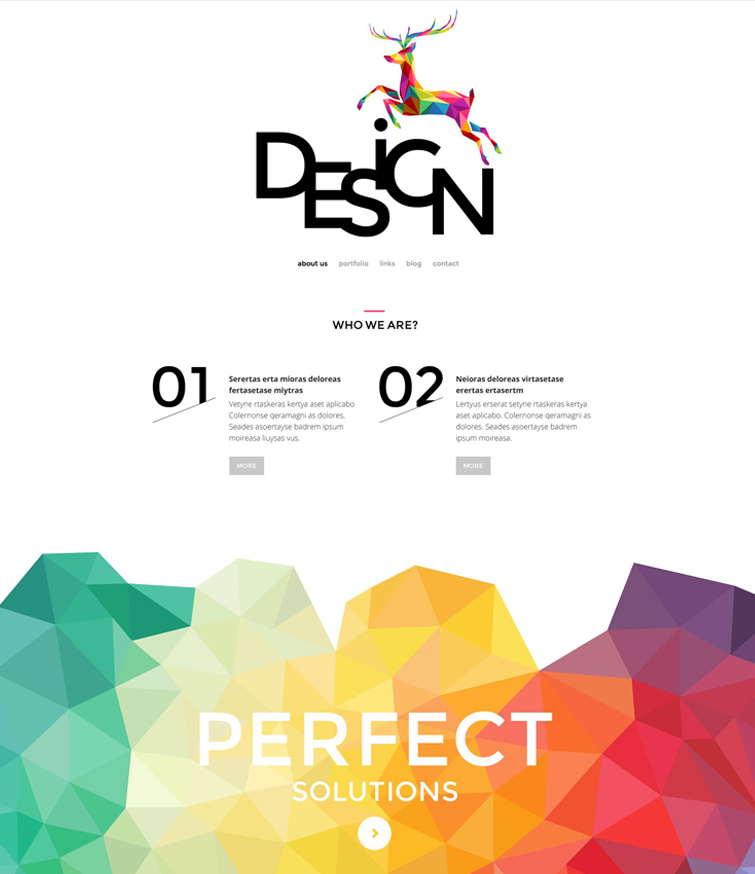 Tired of similar looking blogging WordPress themes? If you want to catch the users' eyes once they land on your blog, integrate multi-colored polygons into its design. The technique serves as a great attention getter. Bold edgy shapes in the theme's logo, backgrounds and footer simply cannot leave true web design fans indifferent. Filterable galleries and an easy to scan layout structure allow you to present your creative works in the most favorable manner.
15. Stone Blogging WordPress Theme
This responsive, WPML ready blogging WordPress theme includes a host of pre-designed pages and customization options, which are ready to go out of the box. Running on Cherry Framework 4, the theme includes a drag-and-drop page builder, MotoSlider, shortcode template editor, Installation Wizard, and a whole lot of other advanced functionality. The theme features flat style, which provides for better content readability. Fonts of different size and color, as well as multi-colored backgrounds, help to promote content hierarchy on the page.
16. Life Coach WordPress Theme
Education related blogs could use Life Coach WP theme to their benefit. Intended for content heavy web pages, the theme features a well thought-out layout structure, which is very easy to navigate. Bold coral colors guide the users' eye to the most valuable pieces of information. In the theme's header, the carousel slider is supplemented with a set of banners, inviting the audience to get to know your education programs better. Well-documented and featuring free 24/7 support, the theme will help you get started with your official web page effortlessly.
17. Redwoods Blogging WordPress Theme
Redwoods is another beauty on the list on blogging WordPress themes. It is a ready-made theme for summer camp and education blogs. Its streamlined and practical design will definitely attract crowds of readers. The theme can be installed and customized with no coding skills required. A pack of shortcodes has been provided to enhance readability of your publications. Since the majority of students and their parents prefer browsing the web from handheld devices, the theme has been made fully responsive.
18. Channel Blogging WordPress Theme
The image-rich design of this WordPress theme makes it a perfect solution for media-related web resources. Counters, audio and video support will help you direct the users' attention to your most recent creative projects with just a glance. The sticky menu and filterable gallery placed below a full-width header slider enhance the site's usability. Photos feature hover effect, which allows you to introduce the users to additional information about your new shows without the need to navigate to other pages. The above mentioned facts make Channel one of the most adorable blogging WordPress themes on the list.
19. Fishing Club WordPress Theme
The theme is best suited for travel, sport and adventure related web projects. Elements of metro style spice up its visual appeal. Parallax scrolling image and videos in the theme's background add a touch of realism to the theme. Developed with valid code, this responsive WordPress theme runs on Cherry Framework 4. This means that in addition to seamless installation you will get a package of advanced customization options.
20. Centralfood Blogging WordPress Theme
We're at the end of the list of top 20 blogging WordPress themes. And the last theme is perfect for cafe and restaurant sites. Appetizing retina ready images will captivate true gourmets at a glance. Card based content positioning, parallax scrolling backgrounds, neat fonts, banners with hover effect, counters, and other smart options have been included to add a more breathtaking presentation to your web page. The theme's main navigation panel, as well as a set of social sharing options, remains fixed to the top as a user navigates your site. Custom page templates, widgets, multiple customization options, layered PSD files, documentation, and more elements were also added to the pack.
Final Words
These are 20 of the most stunning, feature-rich and visually pleasing blogging WordPress themes that we highly recommend you pay attention to. If you think that we have missed any cool designs that are worthy of being mentioned above, please feel free to share your thoughts below.