Take the time to browse through a number of pre-made layouts, and you will begin to understand the powerful features they bring to the table. Pre-made layouts are not merely examples of website pages. They represent concepts, and creative tools you can work with, to design attractive, high-quality websites, pages, and posts.
An artist, staring at a blank canvas may not have much to work with as a source of ideas or inspiration. When a website developer starts with a pre-made layout on the other hand, ideas suddenly begin to take on life, and in some cases good ideas are replaced by even better ones.
Some Examples of Pre-made Layouts
The layouts you see below are just the tip of the iceberg. When you have a large selection to choose from, your project can get off to a quick start if you choose a layout that relates to an idea you have in mind, but you can actually do almost anything with any layout when using a theme's page building and editing tools. The deeper you get into editing a layout, the more you will begin to appreciate how valuable these tools are, and the potential they bring to the table.
Uploading a pre-made layout takes less than a minute, and once you have done so, you can immediately begin putting your ideas to work. Editing is an easy process, as you will see.
How to Install and Edit a Be Theme Pre-made Layout
You don't need to thumb through a user manual to find out how to install and edit one of Be Theme's many pre-made layouts. Take a moment to view this one-minute video, and see for yourself how easy the entire process is.
As the video demonstrates, uploading and editing is not hard at all. The same can be said about most of Be Theme's operational features. Be Theme has more ready-to-use layouts than any other WordPress theme, including the other premium themes.
Once you have begun working with one of these layouts, you will find yourself becoming an expert in no time at all. Creating page after effortless page, a few clicks at a time, while avoiding the tedious tasks usually associated with paying strict attention to detail, may place you in a situation where you are reluctant to stop. Be Theme is like that.
Discovering What World Class Support is all About
Sometimes, when you get a prompt reply to a question you have about a product you've purchased, it almost comes as a shock. Most WordPress theme authors provide good support, although some do better than others.
Be Theme authors and support staff provides truly exceptional support, time after time, 24/7. They are prompt, unfailingly courteous, and knowledgeable.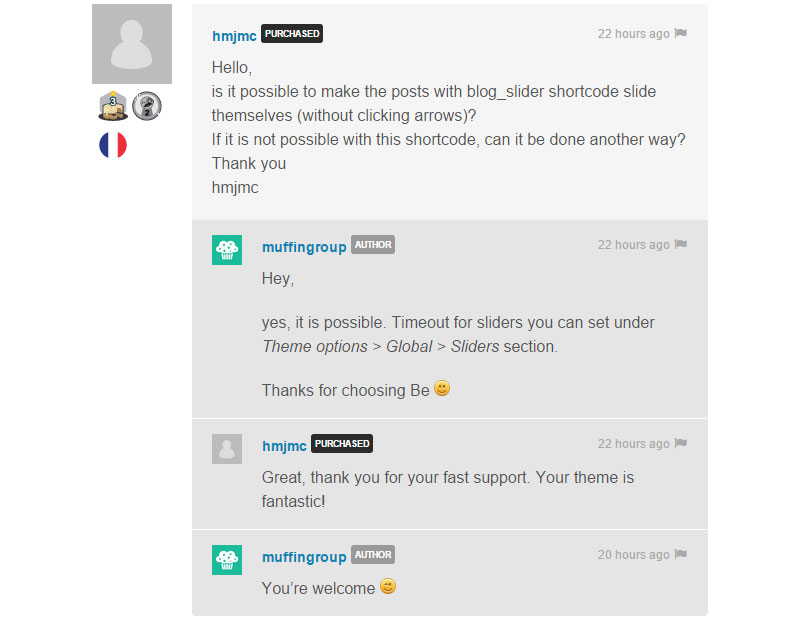 A Short Listing of Be Theme's Core Features
Putting in place a short listing of Be Theme's core features is no easy task, since you will always find you are leaving one or more things out you really don't want to. Choosing which feature tops the list is not a problem however. The defining Be Theme feature is its more than 100 pre-made layouts, many more than the closest premium WordPress theme competitors come close to providing. Take your pick of layouts, install one with a single click, and you are off and running and ready to take advantage of the multiplicity of additional core features.
Here are several you will find either extremely useful, or at times essential, in your website creating endeavors. Together, they provide tremendous flexibility and adaptability to the layout you have chosen as your design baseline.
Muffin Builder – No Coding Skills Required – This drag and drop page builder is in itself loaded with useful features that allow you to create virtually any type of page or post, and do so effortlessly. You will find Muffin Builder especially valuable when you are faced with creating particularly complex pages, such as those typically associated with eCommerce websites.
Operations Central – the Admin Panel – As you upload your layout, and initiate the editing process, the admin panel immediately becomes one of your most useful tools. It enables you to systematically customize a page, in any way you choose, without ever losing track of where you are. Like Muffin Builder, the admin panel enables you to create virtually any page without having to rely on a single line of code.
Be Theme is naturally Responsive and Retina Ready. It is also WPML, RTL, SEO, and WooCommerce Ready. It has been optimized for speed, and it is cross-browser and multi-platform compatible. In short, Be Theme features everything you would expect in a premium theme.
The Layouts Configurator enables you to add some spice and variety to a website, by making it possible to create pages that are in some ways unique, as opposed to following a strict template. Let the world know just how creative you can be!
Other core features, such as auto and lifetime updates, custom backgrounds, and built-in unlimited color pickers are certainly worth mentioning. Be Theme's World Class Support has already been addressed, but it is worth emphasizing one more time as one of the core features, as this kind of quality support can make all the difference in the world when you want to be able to use all a theme such as this one has to offer.
Summary
You are invited to look into Be Theme in much greater detail, to see everything it has to offer. Be sure to take the time to browse through this premium theme's library of pre-made layouts, and the impressive list of core features and other features. You may come away wishing you had discovered Be Theme earlier, but at the very least, you will have a better understanding as to how you can put this theme to good use.