If you've been using Adobe's Business Catalyst (BC) or Muse to build websites, you're in a bind. Adobe announced that they are shutting down Business Catalyst and Muse after years of operation.
Typically, agencies that use Business Catalyst also integrate Adobe Muse into their workflows to streamline the development and management of websites. So this end-of-life announcement came as a shock to the thousands of businesses using the tools, as both platforms are getting squelched at the same time.
For Business Catalyst, Adobe gave the final deletion date to be March 26th, 2020 (although they later shifted it to March 26th, 2021 after some of their customers requested that the timeline be extended). The company also stated that users have until June 18th, 2018 (later extended to August 27th) to upgrade trial sites to paid, while new trials will no longer be available after June 18th, 2018.
For Muse, the shutdown process already commenced with the final feature improvement release on March 26, 2018. Adobe said they will continue to offer technical support to all active Creative Cloud customers until March 26, 2020. It seems the company will likely deliver compatibility updates for Mac and Windows OS, or fix any bugs that might crop up when publishing Muse sites. But it's obvious that service quality will fall drastically after Adobe stops support for the software.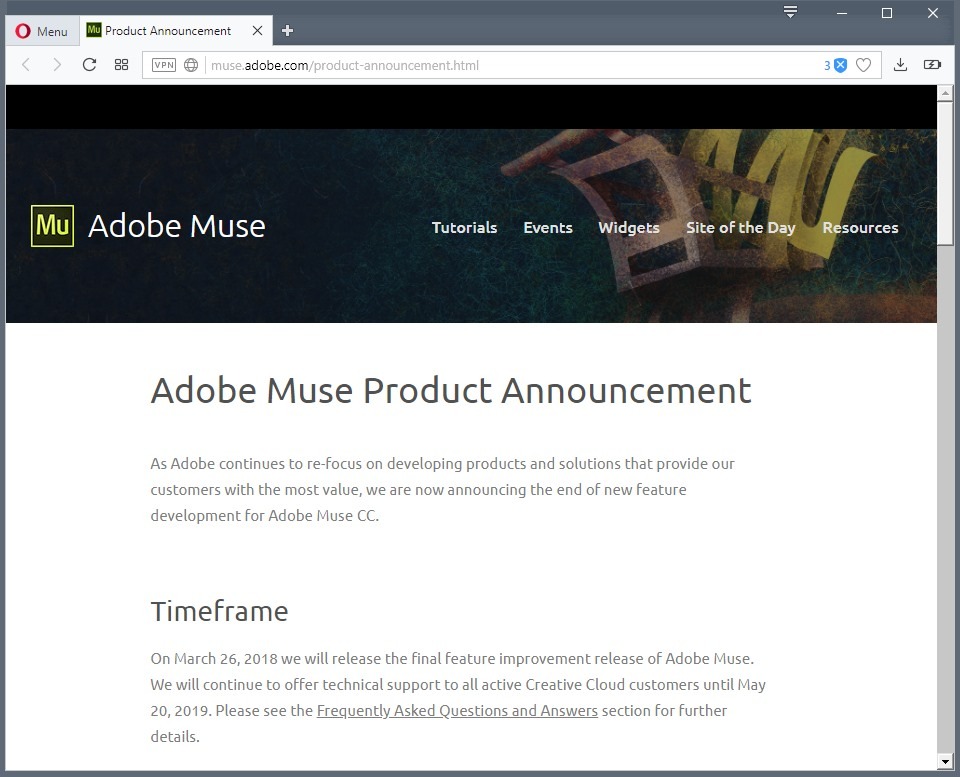 For the record, Business Catalyst is an all-in-one Content Management System (CMS) for building and managing websites. It integrates sales, ecommerce, content, and marketing features and was acquired by Adobe in 2009.
On the other hand, Adobe Muse is a website builder that allows users to create fixed, fluid, and adaptive websites without having to write any code. It was launched by Adobe in 2012.
Now, following this imminent shutdown, businesses and web design agencies that are using the platforms would have to find alternatives before the deadline. In fact, it's recommended that you do ASAP.
One reason being that, migrating a site could take longer than anticipated — budgeting, planning, execution, fixes, etc. — especially for businesses with multiple websites and/or a huge amount of data; thus, you don't have to wait until the last minute.
Another is that this announcement could mean the two tools are only going to attenuate in performance and customer service going forward, until they're finally snuffed out.
Even Adobe encourages customers to download their data and migrate to other systems well before the deadline. They said all BC servers will be taken down (on March 26th, 2020 2021). This means the data of all its customers will be deleted and won't be available for download after the service end date.
This is why you should find a new solution immediately.
But wait, what great alternatives are out there?
As a web design agency looking to provide a phenomenal service to your clients, you need a design and development platform that's equally phenomenal to support your vision. Adopting a less than stellar platform can only result in unnecessary pains for you and your clients, which can ultimately kill your agency's brand reputation. And so to help you find your next web builder, we've looked into why Duda could be your best shot for replacing Business Catalyst and Muse.
Introducing Duda
Duda is a software suite for creating optimized websites, primarily for small and medium-sized businesses. It offers responsive website and mobile builders, with the flexibility to access scads of cutting-edge web design tools you won't find on platforms like Squarespace or Wix.
Instead of focusing entirely on the site building experience, Duda also provides digital agencies the technology needed to incorporate branding into their projects, initiate team collaboration, automate certain workflows, and streamline client communications.
In a sense, Duda could be everything a web design agency will ever need to build beautiful sites at scale.
How huge and trustworthy is Duda? It's currently being used by over 12 million websites at the time of writing this, and has partnered with companies such as Google, AT&T, Yahoo!, Intuit, and OpenTable.
How Duda stacks up against Business Catalyst and Muse
While Muse is built specifically for creative designers who need a "design-focused" platform for building sites, Business Catalyst is designed primarily for agencies to build fully functional and scalable business websites.
It's safe to say that both Business Catalyst and Muse pack some of the most useful features for web design agencies.
However, Duda does measure up pretty nicely against the two tools when it comes to features that are game-changers for agencies.
To help determine if Duda is right for you, let's drill down into some key features of each platform and also compare to see how they stack up against each other:
Business Catalyst's features are built around its core areas of offerings, which are content management, eCommerce, events, digital marketing, blogging, customer database (CRM), membership site management, etc.
With these features, agencies can create different types of sites for their clients, including blogs, event websites, membership sites etc.
Also, without the need for custom coding or configuration of third-party systems, BC allows agencies to build online stores clients can use to sell both physical and digital products, with integrations for billing, shipping, discounts, vouchers, referrals, and automated recurring orders.
These sites can be managed from anywhere, as BC allows access to its Admin Console on any device.
On the other hand, since Muse is specifically aimed at professional designers, its features are typically design-based.
In short, if you've used any related graphics software like Photoshop in the past, you will find Muse's UI convenient and intuitive because of their similarities.
Muse is open-ended. This means you don't get any ready-to-use templates or themes, but are provided with a blank canvas. With that, you're free to design your website from scratch, anyhow.
Muse also has an integration capability for styling a blog from any popular blog service, including Tumblr and WordPress.
Compared to Business Catalyst and Muse, Duda packs a bunch of features which any web design agency will find delightful. Here's a run-through of some of them:
Optimized communications: After publishing a new website with Duda, you can easily push a "Welcome Email" to the respective client to notify them that their site is live. If you want the client to manage the site from their end, you can also include the login credentials in the email. Also, Duda's "Statistics Digest" tool lets you schedule regular analytics reports to your clients, which helps your agency to be perceived as a detail-oriented team that delivers value.
Fully white label-able platform: With Duda, you can incorporate custom branding elements into your backend's admin interface. Some of the elements include the logo, text colors, buttons, and background images. This alone can boost brand loyalty and impress your clients, as they'll be working with a team that "has its own custom-made proprietary platform."
Smart content collection tools: One area web design agencies find themselves struggling is appropriating existing assets from clients; they'll often have to chase after clients for files and content. Duda solves that problem with its "Content Collection Form," making it effortless for clients to submit images, files, and important business details in an expedited process. You can also import assets from another website by using the "Import Content" module.
Access control and permissions: Duda offers a unified tool for managing account permissions for both clients and team members. Business Catalyst has a similar feature, which allows administrators to set and control each admin user's level of access.
Repackage and sell your custom-branded Duda portal: Duda goes beyond helping you build a masterly web design environment to letting you repackage the platform as your own resellable self-service web design portal.
Widget builder ecosystem: Duda comes with a built-in, drag-and-drop widget builder which you can use to add custom interactive experiences for users.
Assignable, dynamic, modular sections: Duda provides dynamic modular content "Sections" that serve as the building blocks of your website.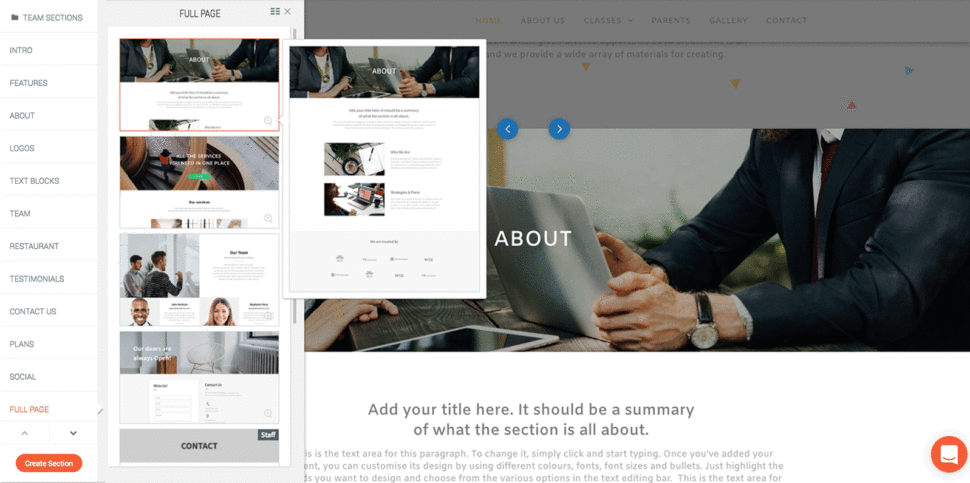 Of course, these aren't the only features/benefits Duda has. In fact, there are a wealth of them. These ones are specifically handy for web design agencies, even though Duda also supports digital publishers and hosting companies.
Conclusion
The news of Adobe's impending closure of both Business Catalyst and Muse may pose a threat to your business, if you've been using their systems. But the end of life for those tools doesn't have to spell the end of your business.
If you make the right decision, not only can your business pull through the challenge, but can also thrive as it emerges on the other side.
Using the information provided, you should be able to determine whether Duda makes a great alternative for the soon-to-be-defunct platforms.