I love me some speed. I can't drive slowly unless I really have to. I try my best to eat slowly among friends because that is the socially acceptable thing to do, but I fail all the time because nothing gets between me and my food. And as a guy who frequents WordPress theme shop after another, I always have a problem with themes that take forever to load.
Let's just say patience isn't my strong suit. I know that patience is a virtue and all that, but tell that to a reader who has to wait an eternity for your site to load. Slow loading websites are an instant deal breaker.
A slow website screams to the entire universe you don't give a hoot about your web visitors. Guess how they return the favor? They stop caring about you and move on to your immediate competitor. You don't want that to happen, now do you? You need more people to hang around your site for longer if want to make any moolah.
Running your WordPress website with the best WordPress hosting favors great speeds, but you can get a little more adrenaline rush with a WordPress theme built for supersonic speeds. Keep in mind that fast speeds are great for user experience (UX) as well as your SEO efforts. You can easily get a great WordPress host, but what about a super-fast WordPress theme? – Brandon, OnBlastBlog
In today's post, I compare a couple of WordPress themes from various theme shops in a bid to score you the best in terms of speed. I will use a tool known as GTmetrix to check two themes from each WordPress theme shop I list.
Still, I will look at the pros and cons of each WordPress theme shop, so you can have an easier time choosing the perfect fit for your business. Towards the end, I will list a couple of tips on how to improve the page load speeds of your WordPress site even further.
Ready? Well, let's put this baby in fifth gear already.
With over 300K happy customers including the likes of ShoeMoney, Matthew Woodward, PackandClick and StudentsFitness among others, MyThemeShop is a revered company in the premium WordPress theme market.
Rated 4.5/5.0 by Athemes, yet another fantastic WordPress theme shop, MyThemeShop is best known for easy-to-manage and responsive WordPress themes suitable for bloggers, magazines, ecommerce and business in general.
Some of their themes, such as TruePixel and SociallyViral have been used by recognizable brands such as ViralNova among others, meaning you are in safe hands with these guys.
They offer 120+ hand-crafted WordPress themes & plugins, some of which are free to download and use. This is definitely great news for those among us on a tight budget but want professionally coded themes that don't disappoint.
Apart from being fully responsive, all MyThemeShop's themes are built using the latest HTML5 and CSS3 techniques, which makes each theme future proof. Other than that, all the themes you get from this WordPress theme shop are optimized for amazing speeds, the best SEO, and social media integration.
On top of that, each theme comes with a million and one options allowing you to customize your site to your unique tastes, no matter how diverse the needs. All this you do easily from the an easy-to-use options panel that offers a wide array of interesting options. You also get an advanced options panel that lets you turn your website whichever way using shortcodes.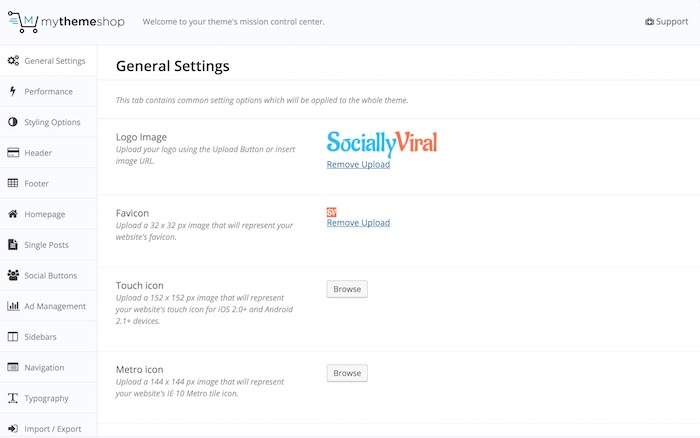 Additionally, they follow up each WordPress update with theme updates ensuring you are always up to date in terms of functionality and security. That, and every month MyThemeShop releases a new theme, which means they have your back covered should you be bored with your current theme.
In terms of support, MyThemeShop offers adequate customer care depending on the amount of money you spend. If you go for the free WordPress themes, you're allowed access to the knowledge base, free forum support, FAQ section and video tutorials. With paid membership, you get access to the aforementioned resources plus robust premium video tutorials for most of the themes, customization services, and personalized support. The support reps are ever friendly and quite helpful.
In the pricing department, MyThemeShop doesn't disappoint either. They offer a rather straightforward tier-based pricing scheme. While you don't have to pay a dime to access a great deal of free WordPress themes and plugins, you have to shell out just a few bucks to enjoy their premium counterparts.
You can get a top-level premium WordPress theme for as little as $59 bucks, or join the MyThemeShop community and gain access to over 120 themes and plugins for only $167 bucks per year. With all these great features, amazing design concepts, and a supportive team that know and love their job, the price is worth every penny.
On the matters of speed, MyThemeShop understands the place of fast-loading pages in the online landscape of today and tomorrow. Unlike many wordPress themes that use bloated code and what not, the guys at MyThemeShop "…don't sacrifice code quality for good design that bogs down your site and destroys your search rankings."
Instead, their themes are designed to load light scripts asynchronously, meaning they are less resource intensive than what the competitors offer. If that isn't enough, the developers at MyThemeShop don't overload the themes with useless features and design elements that get in the way and slow down your site. Each line of code that goes into every theme is absolutely necessary.
I tested SociallyViral and Schema using GTmetrix and here are the results:
From the screen grab above, we can establish that SociallyViral has an impressive page load time of 0.8 seconds with 42 server requests. This theme has a PageSpeed score of 89% and a YSlow score of 84%. It has a total page size of 508 KB, which is great. How did Schema fair?
As you can see, Schema scores highly as well with a PageSpeed score of 94% (A), which is a cool A. It has a page load time of 1.3 seconds and a YSlow score of 85% with 36 server requests. Schema has a total page size of 346 KB which is simply awesome! To improve the speeds further, GTmetrix recommends using a CDN and optimizing WordPress.
MyThemeShop Pros & Cons
Pros
Affordable and convenient pricing scheme
Great team support
All themes are beautiful and fully responsive
A great and easy to use options panel
SEO-ready WordPress themes
Extra useful plugins
Cons
They don't have a multipurpose WordPress theme
Almost all their themes have a similar look and feel about them (But that's because they use the same super-fast foundational framework 🙂 )
Templatic WordPress Theme Shop
Enters Templatic and you have WordPress theme developers who think out of the box as far as design goes. R. Bhavesh, the founder, established Templatic in March 2008 but officially launched the company in December 2009. This WordPress theme shop specializes in building top of the range WordPress themes for a wide variety of businesses big and small.
Templatic themes boast of typical everyday features such SEO-ready architecture, beautiful and varied designs, social media integration, responsive grids, and plenty of real estate for your advertising endeavors. However, their WordPress themes often come with hard to follow code, which is a stumbling block for beginners and developers alike. For this very reason, you can't customize the themes easily, which is just sad.
The themes might be plain looking in terms of graphics, but that is because they are designed for professional (read formal) websites. A good example is Directory, their leading WordPress theme. But don't take my word for it, you might want to check out their other themes for some design inspiration.
Other than that, Templatic serves over 130K customers meaning you will hardly go wrong with these guys. They offer 80+ WordPress themes and 40+ plugins, which is quite impressive. The company offers a Premium Themes club package that costs $399. There is an optional monthly fee of about $20 bucks. You get access to all themes, updates and installation guides among other goodies.
I took two of Templatic's themes through GTmetrix. Here are my findings:
As you can see from the image above, Villa Rental – a premium WordPress theme by Templatic – has page load time of 3.6 seconds with a total page size of 2.45MB and 93 requests made to the server. Obviously, Bhavesh & Co. need to work on reducing the page size and the number of requests the theme makes to the server. That might reduce the page load time significantly.
Here's how their flagship theme, Directory, performed:
Well, the page load time sucks big time at a little over 10 seconds! The theme makes 94 requests to the server, and has a total page size of 880 KB, which is a little on the higher side since it's only 120KB shy of the 1MB mark. Directory has a PageSpeed score of B (88%) and YSlow score of C (73%).
Templatic Pros & Cons
Pros
Amazing personal support
Great professional designs
Feature-rich themes
Regular updates
Cons
Membership has become less valuable since some themes require multiple add-ons
Compatibility issues with other WordPress plugins noted by some users
There's a learning curve with some of the themes
Brought to us by renowned WordPress developer Nick Roach, and serving over 300K satisfied customers, Elegant Themes has etched a lucrative niche in the premium WordPress theme market, what with flagship products such as the popular DIVI theme.
They offer a wide range of amazing WordPress themes each featuring stellar design, unparalleled support, and advanced features the like of which you have never seen. And at a small price of just $69 bucks per year, you can have over 85 top-of-the-range WordPress themes to use as you will. Whenever it's appropriate, they also offer generous discounts that save you money.
ElegantThemes' WordPress themes are built to make you a true winner in whichever niche you choose. The themes are SEO-ready from the ground up and come with lots of customization tools and options. Without breaking a sweat, you can set up your site, manage adverts, and generally have it all with ElegantThemes' themes.
Every month, the developers at ElegantThemes keep things fresh by releasing one or two WordPress themes. Their premium WordPress themes are stylish and come in so many forms allowing you to excel without trying hard. Most of the themes are fully responsive meaning your site adapts to variable screen sizes without a hassle.
But how does this WordPress theme shop fair in terms of speed? I put two of their themes; DIVI and Nexus, to the test. Here's what I found out:
As you can tell from the image above, DIVI has a PageSpeed score of 91% (A) with a total page size of 4.05 MB. The theme made 71 requests to the server resulting in a page load time of 2.2 seconds. The theme has a YSlow score of 83%. Nick Roach and team need to do something about that page size, 'cause that's just not attractive.
And here is how Nexus performed:
What's the total page size again? A freaking 7.31MB! The theme makes 130 requests to the server earning a lackluster 50% PageSpeed score. It has a page load time of 4.1 seconds, which is above 4 seconds – the average time a user is willing to wait before giving up on your site. It has a YSlow score of 82%.
ElegantThemes Pros & Cons
Pros
You get 85+ themes for the price of one ($69)
Awesome and knowledgeable support
Brand new and unique theme designs
A couple of interesting plugins
Cons
Some themes are definitely not user friendly. There's a learning curve especially if you're the perfect beginner
Themes send many requests to the server, which causes slow speeds
Acute problems with support have been noted by a few customers
WooThemes WordPress Theme Shop
I don't want to be a hater but let's just be honest and call a spade a spade. WooThemes WordPress themes are a tad boring compared to what I have seen from other theme vendors. They are ideal for simple websites that can do without beautiful design and some pizzazz.
In other words, you will find a home at WooThemes if you're after powerful functionality but don't care as much about aesthetics. The designs are clean, alright, but they are not beautiful for the beginner looking to start right away without spending hours on fixing appearance.
And if that's not bad enough, this WordPress theme shop offers about 30 WordPress themes, all of which are built upon the WooFramework. This, however, doesn't disguise the fact that they have over 50 retired themes that are no longer supported or updated. A single theme costs $39 bucks, and the All Themes Bundle goes for $399.
WooThemes was founded by Adii Pienaar, Magnus Jepson and Mark Forrester back in 2008. Today, the company employs more than 25 employees, which is surprising considering the small number of themes available. This WordPress theme shop is, however, better known for it's popular and free eCommerce plugin; WooCommerce. They offer five other plugins as well as plenty of extensions for WooCommerce.
On matters support, WooThemes suck big time if the reviews I came across are anything to go by. Here's one disgruntled customer, for instance:
As David says in the post below this one, support from WooThemes has totally disappeared. They talk a good game on their web site about having responsive customer service, but actions speak louder than words. And of course, like so many of today's companies, they totally isolate themselves from their customers by not providing a phone number or email method of contact. – RPM, WooThemes Review – Is it Good or Bad?
The above review was posted on ThemeGrade on January 14th, 2016.
But how does this WordPress theme shop perform in terms of speed? I gave two of their themes; Canvas and HomeStore, a test run. This is what I found: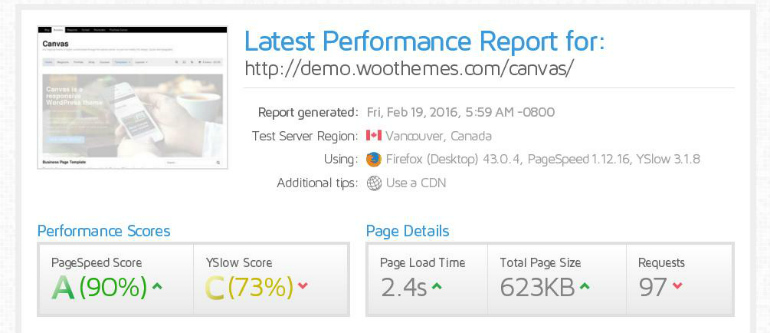 From the image above, we can establish that Canvas by WooThemes is a fast theme, which is probably why it's their most popular theme. It has, however, 97 requests to the server, which is odd but acceptable. It has a YSlow score of 73% and a PageSpeed score of 90%.
HomeStore's total page size is 2.53 MB and the number of requests from the server is 118! All the same, this WordPress theme by WooThemes has page load time of 2.6 seconds. GTmetrix recommends using a CDN to accelerate content if you must serve heavy content. The developers need to thin down the page size and reduce the number of server requests to realize faster speeds. In terms of performance, HomeStore has a PageSpeed score of 87% and a YSlow score of 72%.
WooThemes Pros & Cons
Pros
Themes are easily customizable and feature-rich
They have community forums where users can interact and help each other out
Simple and clean design which is great for designers and developers looking to build custom sites using WooThemes themes as foundation
Cons
A large number of over 50 retired WordPress themes that are no longer supported or updated (why oh why WooThemes?)
The designs are boring for lack of a better word. They aren't exciting and don't use modern design trends
Themes can be fiddly for new users
You can feel the energy and vitality as soon as you land on Themify's homepage. Without a doubt, theirs is a state of the art operation that has served more than 54K souls since inception. Did I just say souls? Ok, moving on swiftly.
Right off the bat, you will notice that their WordPress themes are full of color, cool imagery and great typography. In fact, you don't need trying hard to see why this WordPress theme shop made this list today.
Their themes use the latest design trend including parallax, varied backgrounds, flat design and CSS3 among others. And since the themes ship packing a lot of features, there is no limit to just how much you can achieve with Themify.
Themify's support is way above average. You get access to a support forum, automatic updates (whoa), and extensive documentation that help you to hit the ground running.
For just $79 bucks, you get your hands on over 40 beautiful WordPress themes. They are responsive and retina-ready to boot. On top of that, they are currently offering a bonus that gets you an extra theme of your choice for free when you buy any one theme. Buy one get one free per se.
The goodies don't stop there. If you can tweet a message to @themify, you get an instant 15% coupon. If you would like an extra 10% discount on your first purchase, free feel to subscribe to their newsletter.
If you ask me, these guys are incredibly generous and as equally talented. If you feel the deal is too good to be true, let's put two of their best themes to the test, and determine if Themify are really worth their salt in terms of speed. Here we go.
First off, we have the Ultra theme:
The PageSpeed score is a weak 64%. Ultra has YSlow score of 76%, page load time of 3.1 seconds, a total page size of 1.87 MB and 38 server requests. The deal was too good to be true, don't you think? Perhaps it's just this one theme.
I speed tested yet another theme, the popular Infinite theme, and here are the results:
The scores don't look good either. The Infinite theme by Themify has a total page size of 1.56 MB and takes 2.8 seconds to load in full. It makes a total of 58 requests to the server. It has a PageSpeed score of 65% and a YSlow score of 68%. What a bummer. Could this be the reason they have many discounts?
Themify Pros & Cons
Pros
Great support
Wide variety of themes
Beautiful theme designs
Lots of discounts
Cons
Too many options can confuse beginners
In terms of speeds, you're better off with another WordPress theme shop
No search box on sight (site)
Marketese galore but their themes don't live up to the hype. Sorry guys
Bonus: Quick Tips on Increasing Your WordPress Page Speeds
You can buy themes from the fastest WordPress theme shop, but with time, your site might become slow due to multiple reasons. Here are a few quick tips on how to score lightning fast page speeds at any given time:
First of all, choose the best WordPress hosting. If your web host provides dross service, you will have a slow website even with a fast-loading theme. I recommend managed WordPress hosts such as SiteGround , WPEngine and Kinsta among others.
Be careful where from you source your WordPress themes and plugins. Some themes and plugins come with useless and bloated code that will only slow down your site. Some of these themes and plugins contain malicious code which is just trouble. Go for reputable vendors only.
Optimize your images and set image dimensions. I noticed this problem with most WordPress theme shops that scored poorly. If you need a 200 x 300 px image, don't resize a 400 x 600 px image using HTML or CSS. Use instead a 200 x 300 px and not a pixel more.
Reduce HTTP requests to the server. It's pretty obvious the more files you need to create your homepage, the more time it will take to load said files. Minimize the number of files you need to build your website.
Use a content delivery network (CDN). GTmetrix offered this suggestion for nearly every WordPress theme shop. Popular content delivery networks include MaxCDN and CloudFlare among others. This shouldn't be a concern though if you use a managed WordPress host as the CDN is more often than not integrated with the hosting service.
Consider using a caching plugin such as W3 Total Cache and WP Super Cache among others. Again, a managed WordPress host takes care of this for you.
Take advantage of browser level caching
Turn on GZip compression. It's easy peasy work to implement. Just navigate to http://yourdomain.com/wp-admin/options.php, and change the value of the gzipcompression from 0 to 1. Remember to replace yourdomain.com with your own domain name. Additionally, you must be logged in to your WordPress Admin dashboard for this to work.
Limit usage of external scripts including adverts
Minify HTML, CSS and JavaScript
Disable Jetpack features that you don't use (I reduced my page load time by 3 seconds by deactivating all features but comments and social sharing)
Delete plugins and themes that you don't use
Empty your trash regularly
Check your PageSpeed scores using GTMetrix, Pingdom Tools or Google PageSpeed Insights
Google: Learn more about increasing page speeds
At the end of the road…
You only need to go for WordPress themes that guarantee fast page speeds from the start, seeing nobody has the time or the patience to wait around. Attention spans on the Internet are short as it is, and with so many alternatives and distractions out there, you cannot afford the snail's pace. Your readers will thank you for it, and you will notice an increase in your conversion rates.
I hope you have everything you need to choose the fastest WordPress theme shop from my list here today. Which is your favorite WordPress theme shop? Did I miss it, and why would you recommend them to a friend? Please share your thoughts and suggestions in the comment section below. I cannot wait to hear from you. Cheers to faster speeds.
To the stars!