A while back we showcased here a list of 30 Inspiring Examples of Slideshows in Web Design and we also had a post showing 13 Super Useful jQuery Content Slider Scripts and Tutorials. Slideshows and sliders are really interesting elements for organizing and showcasing content. They are not only used for images but also for general content and website navigation. So check out these examples and get some inspiration for how you might use a slider in your next project.
Filtered is a portfolio WordPress theme that has a home page slider for showcasing your best work.
An example of HTML5 website using an elegant and beautiful layout and image slider. Use the arrows to navigate and change both images in most of the examples.
HTML5 once again. Beautiful textured background, nice color scheme and image slider.
Once again a beautiful combination of HTML5, nice colors, texture and typography. Clean and elegant arrows to help you navigate the images.
Simple and straight forward layout and image slider.
Clean layout with elegant arrows to help you navigate the images.
Clean layout with a nice color scheme. Arrows at both sides of the page you slide you through the images.
Another beautiful example of HTML5 website. Nice and clean image slider that will show the arrows only if you hover the image, if not, the navigation circles on the left side of the image will show you 'where you are'.
Great colors, typography and texture. Once again HTML5 and a nice and clean slider.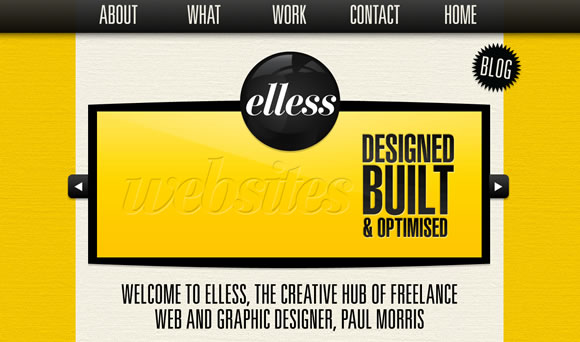 Clean layout. A framed image slider where arrows will appear if you hover the image, otherwise they will change automatically.
Nice and colorful HTML5 website. Simple and effective image slider with arrows that help you checking the images in case you don't to wait for them to change automaticaly.
In this clean and minimal design the sliders will help you navigate important tweets about ad/design/tech.
Nice dark design that allow you to slide sideways to check images and down to check clients.
Super clean and elegant HTML5 website. Arrows to navigate the page and also the images.
Another HTML5 example, here we have sideways arrows to browse projects and image sliders to show project details.
Nice and clean horizontal scroller slider. Also a HTML5 website.
Beautiful layout, texture, images and slider here.
Clean and minimal layout with "hover" arrow slider on the main image and also slider to navigate products.
Clean, minimal, beautiful and pretty self explanatory.
Super clean and beautiful layout with a nice and effective image slider.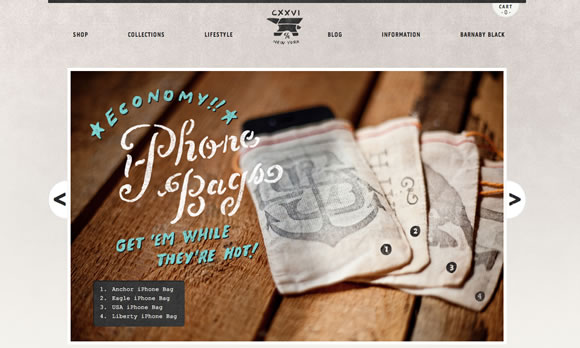 Really cool layout with sliders that help you navigate projects.
Source: