Designers often rely on wireframes, mockups, and prototypes. They use them to show how they see the final product unfolding at various stages in the design process. These presentations can vary from rough sketches to a model that emulates the look and feel of the final product nearly to perfection.
Thus, these three design aids serve somewhat similar purposes, and they are often confused. They are not one and the same. It's important to know the difference.
A wireframe is a low-fidelity model of a proposed design. A wireframe, as the name implies, offers only an outline of what the final product might look like. It is a static representation, with little internal substance (functionality).
A mockup is a step up. A mid-to high-fidelity mockup can, in fact, provide a visual demonstration of the proposed design in great detail. But it is also a static model.
A prototype provides a dynamic representation. A high-fidelity prototype can simulate the look and feel of the end product to the point where you can hardly tell the difference.
All three model types are vehicles for obtaining comment and feedback. Prototypes can vary from simple to exceedingly complex, and are by far the best usability testing aids. Prototypes can range from data and user-flow sketches to low-fidelity models. And to high-fidelity models that can prove and verify a product's UX.
With InVision, designers and their teams have few problems, if any, prototyping, reviewing, refining, and testing their web and mobile product designs. Best of all, they can accomplish these things without writing a single line of code, and it takes just minutes to build a working, high-fidelity prototype.
In InVision, users enjoy a premier product designed and developed by a world-class company. InVision is recommended by Forbes, and Forbes also lists InVision as one of the top cloud companies in the world, ranked up there with the likes of Slack, MailChimp, and Dropbox.
InVision's always-on prototyping, collaboration, and workflow platform can play a decisive role in speeding up your team's entire product creation process. View feedback in one central location for every project, and drill down to a specific project, task, or team member. Version controls are present too, so there's no need to worry about losing your place during a flurry of feedback, suggestions, changes, and fixes.
Sign up for a free 15-day trial today. You'll be glad you did.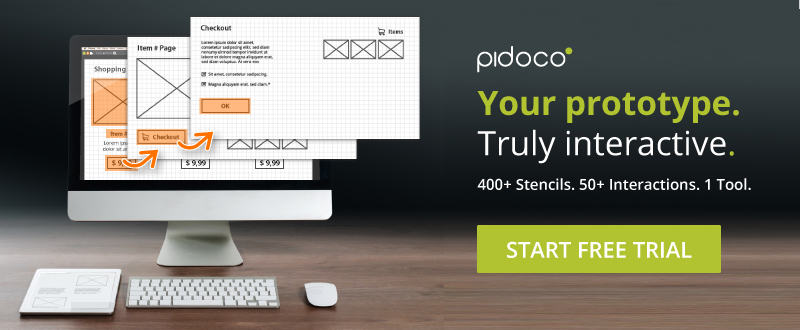 If you've been dreading looking for a new prototyping tool because you don't want to have to deal with a steep learning curve – again, you'll love getting acquainted with Pidoco. Prototyping made easy is the watchword, and this product lives up to the slogan.
Since you can start being productive from the get-go, Pidoco makes a great choice for teams that need a smart web and/or mobile prototyping tool, but have been reluctant to the take extra time to become familiar with something new.
Pidoco is well-known for its ability to turn out high-fidelity, fully-interactive UX prototypes, but you can use if for wireframing and low-fidelity applications as well. Small and large companies in more than 50 countries have put their trust in Pidoco. You can sign up for free, and several pricing plans are available.
One user calls Proto.io the best in-browser prototyping platform around. Another claims to have built their startup around it. Yet another appreciates the fact that having this prototyping platform in hand mitigates the problem of moving from design to development prematurely.
These are just a few of the many reasons for trying out this prototyping platform, taking advantage of the free 15-day full feature trial.
Proto.io is very easy to use, and no coding is necessary to turn out pixel-perfect, interactive prototypes of your mobile app designs. Actually, you can prototype for any device and screen size. The latest version contains a number of exciting new features that make prototyping faster and easier than ever.
The Proto.io Dashboard helps you with your version control and collaboration tasks, the Editor does the heavy lifting when building your prototype, and the Player lets you view the results on your browser, share it with others, and conduct testing.
Last but not least, the Proto.io app lets you experience how your prototype looks, feels and works on a mobile device.
With Webflow, nothing you create is wasted. Everything you build, including your high-fidelity, interactive prototypes, is powered by production-ready HTML, CSS, and JavaScript. This means you can make the transition from prototype to production rather seamlessly. At a minimum, you can give your developers responsive code to work with, and not just static mockups.
However you choose to use Webflow, you'll soon discover how easily it can speed up the design process. You can design with real content, and collaborating with fellow designers and other team members is also easy. Sign up, and try out this powerful tool today. It may change your approach to a lot of things.
Until recently, PowerPoint users had to be content with static slide representation in place of mockups and interactive prototypes. While using PowerPoint is an effective way to present almost anything, including web and app design information, PowerMockup has changed things for the better, and dramatically so.
PowerMockup is a PowerPoint add-on consisting of a large library of design elements and shapes. No coding is necessary to present a slideshow of animated, interactive screens that give team members and project stakeholders a storyboard-type of prototype to work with or respond to.
Even if you have a prototyping tool you're happy with, adding Lucidchart to your design toolbox will still make sense. Its extensive library of design elements allows you to create high-quality wireframes and mockups, or you can simply use this tool for your chart making and flow diagramming tasks.
While rough sketches have their place, a professional design shop should never be without a tool that produces professional-grade dataflow or workflow diagrams, or charts. Lucidchart makes flowcharts quickly, and it makes them right.
HotGloo is easy to learn, runs in your browser and provides you with the right amount of features needed to create your wireframes and prototypes for web, mobile and wearables.
You'll have access to a 2000+ user interface element library, a multiple-licensed account, so you can easily and quickly collaborate with team members, and you can test your work and add comments or make changes on the fly.
HotGloo is supported with a full documentation, video tutorials and webinars to get you going in almost no time. Try it for free today!
Conclusion
These 7 prototyping tools are not one and the same, and differ only in their packaging and branding.  You should not have a problem finding one or two that will work for you better than the others. Most have the features you need to build pixel-perfect, interactive prototypes, although several are better suited for wireframing, or assisting your design efforts in other areas.
One is dedicated to PowerPoint users, one allows you to hand off your design to developers in coded form, and one is a great tool to have if your flowcharting and diagramming efforts aren't quite at a level of quality you'd like them to be. Whichever you choose, you'll have made a smart decision, since all seven of these tools are great at what they do.