It's no secret that Sketch App by Bohemian Coding has been battling head-to-head with Adobe's Photoshop to be the ultimate design tool for creating user interfaces and website mockups. In fact, there are now more Sketch resources on Creative Market than Photoshop resources! Just take a look at these stunning UI kits for Sketch App and you'll quickly understand why.
I've curated a list of UI kits for Sketch that consists of both epic resources that I've been using and also UI kits that are currently hot trends among those that use Sketch regularly(mostly the last couple of months).
Even though user interface kits and app concepts can save you bundles of time, it's important to remember that they're not designed to offer an intuitive user experience. It's how you decide to use the resources that really counts. Good luck!
Here's two UI Kits (Do and Tethr) created by lead designer Anton Aheichanka for InVision App that you absolutely must check out.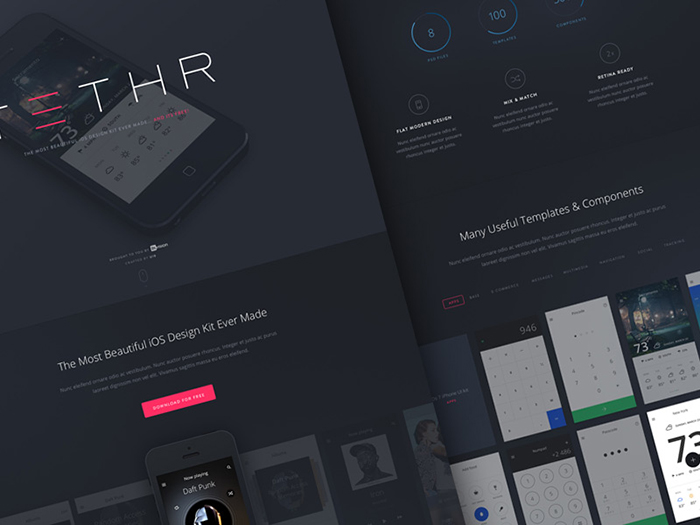 If you're looking for a bold messenger UI kit with iOS-style design elements then Talkie is for you. Designed by Konstantin Zhabinskiy, it works well with attractive colours.
Designer Jadson Almeida also showcases a big and bright UI kit for Sketch App – this time for a music app with a light iTunes feel. It encompasses some inspiration from Rdio and Spotify as well(the button style is distinctively "Spotify").
An adorable, sweet-tasting UI kit designed for Android by Denis Perepelenko which is suitable for a food-themed mobile application. If you adore big typography and well-chosen subtle colours I'd totally recommend the Sweet Cakes UI Kit.
Ranjith Alingal designed this template for a complete iOS travel application sporting a high contrast of purple and yellow colours. The attractive illustrations are a nice touch too!
Maximilian Hennebach's "Photo Splash" iOS UI kit feels somewhat unconventional; very suitable for those that want to elaborate on a more custom feel app complete with a social timeline.
However simple, this UI kit by Alexander Zaytsevs really attractive. Designed for and released by Marvel App, the borderline pastel colours mixed with a dark UI works very well.
You can can see by the fonts, colours, and simplicity that this UI kit by Pausrr is rather sleek. Pausrr creates a lot of app concepts, UI kits, and icon sets, but in my opinion this is some of his best work .
Ena Bacanovic created a whopping 50 screens for this rather extensive e-commerce app UI kit released by Five. I adore its minimalism, and while the colours are of course interchangeable, the default coffee brown theme is really attractive.
If you're a fan of sketch be sure to download your favorite kits and see what you can build!