There are hundreds of wire-framing tools in the market, some online, some desktop-based, some free, and some paid. How do you sort the best from the rest? Below are my top picks:
Moqups is my current favorite. What I like about Moqups is how easy it is to use, with plenty of drag and drop features and the ability to road test it from the get-go, with a minimal learning curve. It's fast, easy to use and works without a browser plug-in. Screens and buttons can be linked so you can publish a demonstration for your clients to view and images can be exported for specification diagrams. Moqups has been created in standard HTML5 and JavaScript which makes it more impressive. Highly recommended.
This program has a user-friendly interface that lets you drag and drop elements to create a mock web page or App; enabling rapid prototyping and getting your ideas across fast and without fuss. It comes with a lot of prebuilt controls commonly used in web design saving you time and speeding up your output. It is intuitive to use with almost no learning curve so you can get started straight away. Balsamiq's only flaw is the wireframes can look a little childlike and unfinished. However it succeeds in being the missing link between the sketch pad and computer.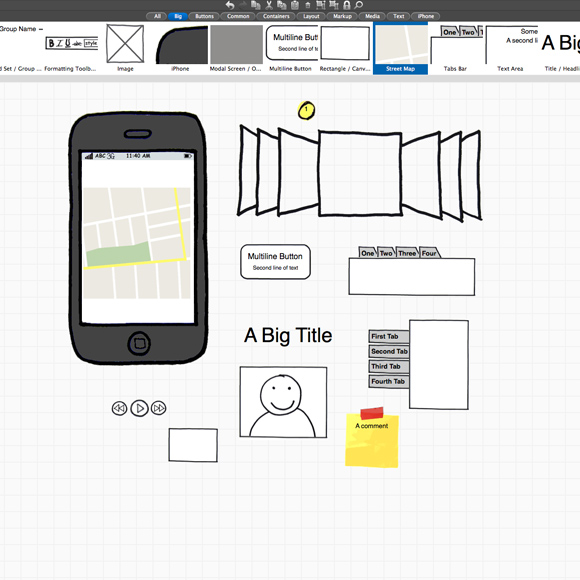 A collaborative online design tool, UxPin is a design app specifically for User Experience and allows you to create wireframe and prototypes that are interactive. It provides users with a tool kit that contains common design elements and offers a huge library of custom UI elements. This is a supremely powerful tool which outputs very polished wireframes. UXpin will appeal to advanced users who want to spend more time creating beautiful full colour wireframes.
I haven't used the collaborative element yet but with design studios becoming much more agile with remote workers, this function can only be a good thing moving forward.
Although not a traditional wire-framing App, Invision allows you to upload working designs and create interactions by using hotspots, just like any real application. Currently in the studio, we are working on designing and developing our own iPhone app. Invision App has been really useful for communicating the design transitions and journeys between screens to other team members. One of it's standout features is the ability to send clickable designs to your phone via SMS, underlinining the importance of being able to test your designs yourself in context. Support for Android phones has also just been announced.
The old fashioned way!
Despite the plethora of software tools, drawing wireframes by hand still remains one of the best ways to get your idea across especially in meetings or in face-to-face scenario's with work colleagues.
Sketching is fast, quick, cheap, and quite liberating! However, hand drawn wireframes can't be shared easily – most designers like to start off drawing wireframes by hand first before moving onto digital wireframes that are easier to edit and share.