Showcasing your professional work, your products, or yourself, is far easier than it used to be. Appearing in person with a sheaf of papers for a prospective client, customer, or employer to sift through can get you poor results. Instead of that you can get far better results by using a website builder to create your personal portfolio website. It's also far easier to create and present a portfolio this way.
Building an online portfolio is easy. Building the one that showcases your creativity is easy as well, especially if you're a creative person to begin with.
There are plenty of platforms to choose from to build an award-winning portfolio site. To get top results you'll be wise to select one of the top tools for the job. Below are described the top 6 tools, most of which you can use or try out for free.
Having said that, let's get started.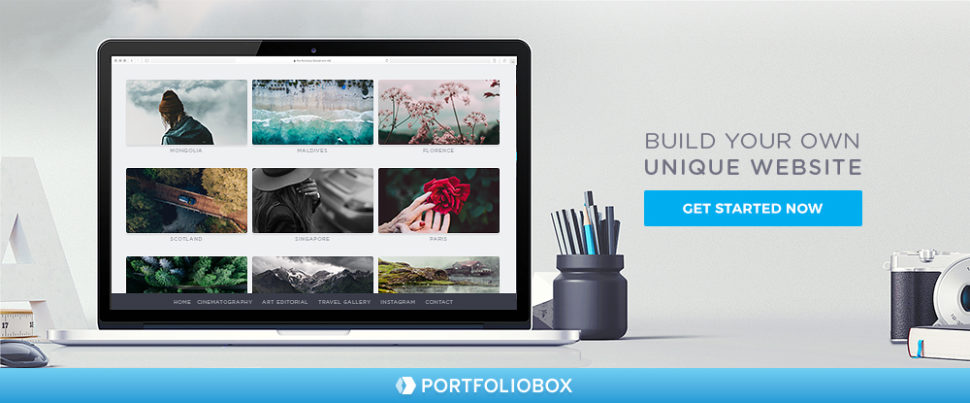 Portfoliobox is especially well-suited for use by photographers, designers, artists, and other creative types – and for entrepreneurs as well. Portfoliobox is almost ridiculously easy to use, and as it isn't theme-based it's super flexible as well. You don't have to worry about coding either. It's simply not necessary.
As this tool's name implies, it's primarily designed to enable its users to create portfolio websites that range from highly-professional to out-of-this-world awesome. Just what you need to gain fistfuls of clients or make sales. Better yet, you can accomplish this in as little as a few hours if you have your content handy.
Portfoliobox offers a free plan and a pro plan. The free plan is recommended since it offers a great insight into what you can accomplish and has sufficient features to put a small to medium-size portfolio in place. The pro plan includes web hosting for a much larger number of pages, blog posts, products, and images. The Portfoliobox user base currently exceeds 1 million. A new version, Portfoliobox 4, is in the works.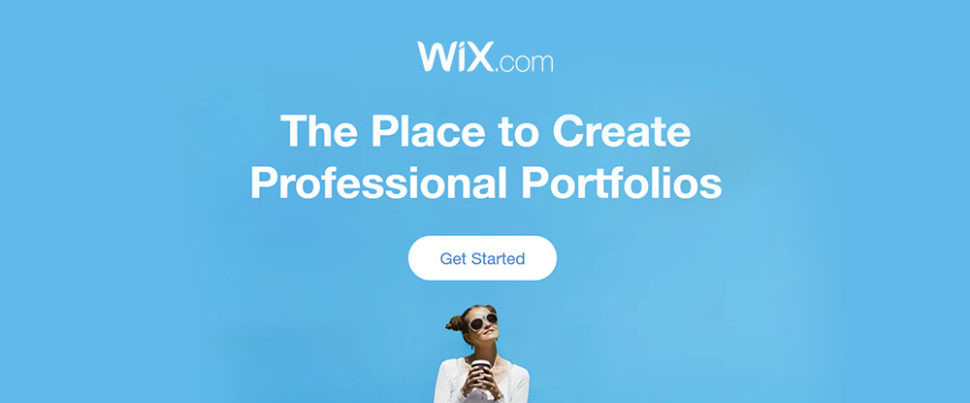 Wix is a versatile tool that can be used with great effect to promote a business or create an online shop. It's greatest strength however is what it brings to the table as an online portfolio builder. Wix is strictly drag and drop supported by the tools and features you need to customize any of the 500+ designer-made templates to your satisfaction.
If you can visualize a truly awesome and unique online portfolio, Wix enables you to build it; without coding. You're not restricted to presenting one static image after another either. Scroll effects, animations, video backgrounds, and more can be used to make your portfolio come to life and keep viewers engaged and looking for more.
If you want the total freedom you feel is necessary to create an award-winning, crowd-pleasing portfolio website, Wix is for you.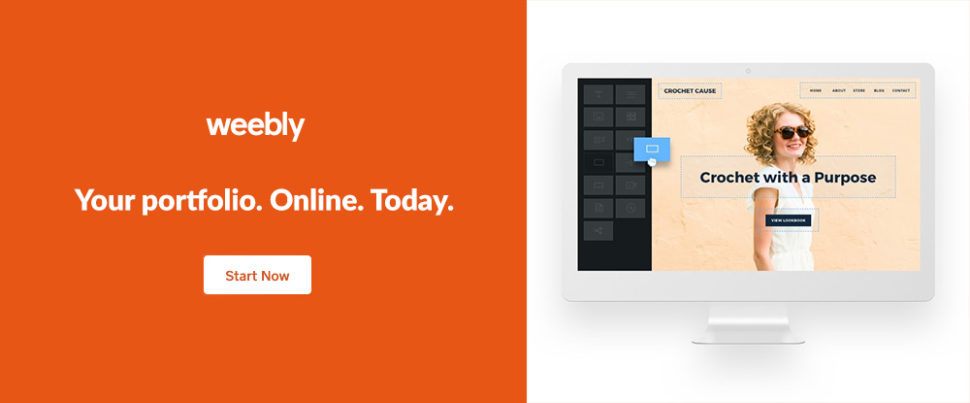 A common feature of many of the top website-building tools is ease of use; which is important if you would like to get something up and running in a relatively short time. With Weebly, you can plan your portfolio-building project over your morning cup of coffee and have the website up and running before dinner.
It's actually that easy when you have a great selection of customizable webpage designs to work with plus a host of custom fonts, video backgrounds, and other special effects and useful tools to work with. Best of all, the Weebly website builder is free.
When you've built your website, you can host it for free. You can purchase a domain from Weebly, but if you already have one you can simply transfer it.
If your portfolio will display a line of products, Weebly offers professional quality photos if you ship the products to them. Whatever your needs, the tools and services are there.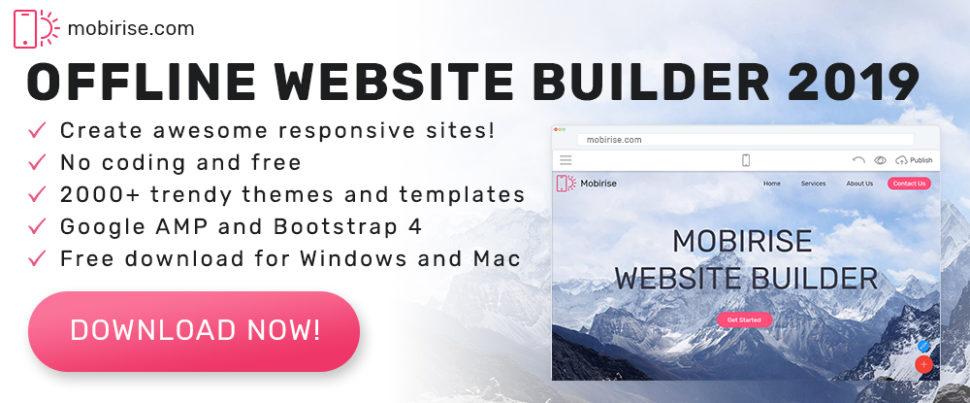 With a tool like Mobirise at your fingertips you don't have to be satisfied with yesterday's idea of a professional portfolio. This offline builder gives you an easy way to build a portfolio that you can take pride in, and one that will encourage others to spread the word.
For starters, Mobirise features 2000+ modern website templates and blocks and a whole host of icons, Google fonts, images, and more.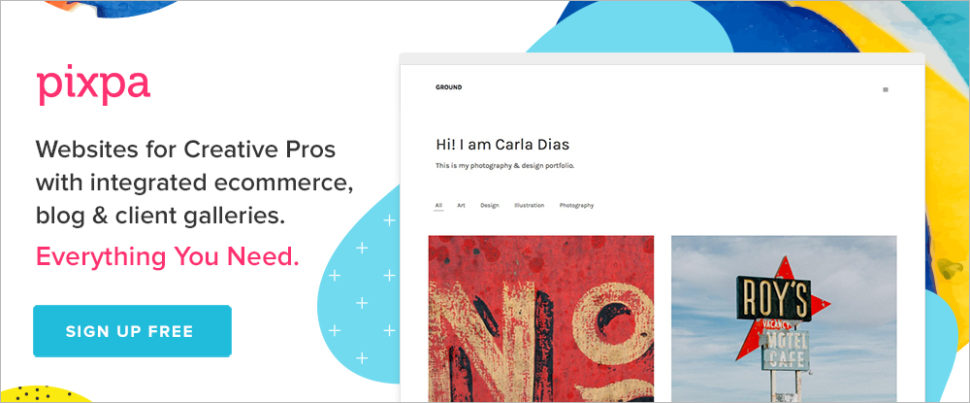 Pixpa's website-building feature set, its 24/7 support, and its cost-effective pricing plans make it a great choice for creatives and small businesses in need of an attention-getting online portfolio. You can build the website you want without requiring any coding knowledge.
It's simply a matter of starting with any of Pixpa's templates and customizing them to your satisfaction via drag and drop. Pixpa offers a 15-day free trial.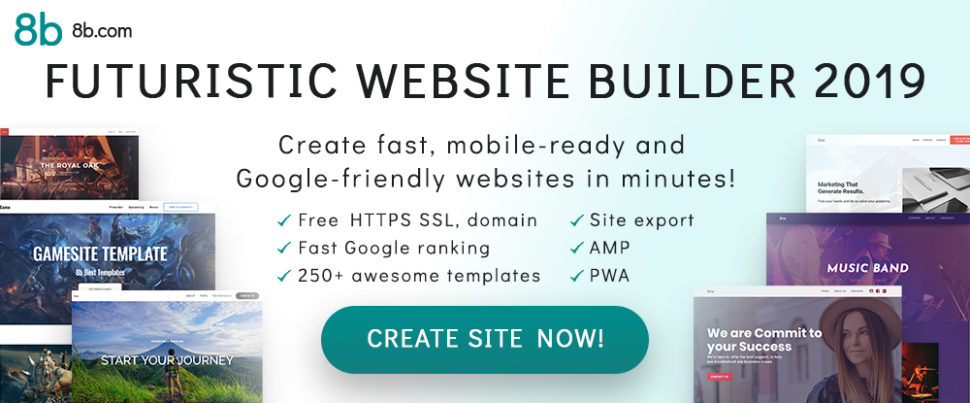 8b is brand new, futuristic in its design and performance, and super-simple to work with. You can build a portfolio website from your desktop, from a mobile device, or both; and, thanks to Google AMP, your finished project will be lightning-fast and 100% mobile friendly.
8b's collection of 18 slick starter themes and more than 250 website sections are all you need to get your portfolio-building project off to a lightning start.
Tips for creating a great portfolio website
You don't have a portfolio website, and what you've been using seems to be getting the job done, so why go digital (even though everyone else seems to be doing so)?
For one thing, with an online portfolio you can showcase your work in a variety of unique and effective ways.
It can also give others a quick insight into what you do as well as who you are
It makes it much easier for people to find you (you become searchable) and see what you have to offer.
At a minimum, your portfolio website should feature a logo and a tagline, a sampling of your very best work, and contact information. You could also include testimonials and case studies, a blog, and anything else that you believe might gain visitor interest. It will look like a special project you have in mind or are currently working on.
Your online portfolio is like a shop window. It features a display that compels passersby to enter to see what you have of interest in terms of products, services, or creative works of art. In this case those "passing by" consist of clients or potential clients and future customers.
Your portfolio should:
Introduce you and showcase your best work
Be easy to navigate and be search engine optimized
Tell a story. The most effective portfolios are often those that can tell a story,
There are also several side benefits to creating an online portfolio.
Your talents are put on display for all to see
You'll get better at organizing items for maximum effect
Your self-confidence should take a positive hit as interest in your portfolio takes off, and
You may learn a few new things or gain a few useful ideas as you proceed
It's win-win for you and your customers/clients.
Conclusion
An online portfolio is a valuable asset. When it is done right, it can help any business to grow and any vocation or career to advance – including a tech industry career. This valuable asset doesn't require a ton of study or effort to put in place either. When you can put a top-notch portfolio website in place in a day's time, the ROI can be huge.
That's where online builders like those presented here come into play. They are easy to use, produce excellent results, and are either free or offer free trials.