One of the biggest concerns for anyone on the internet, whether you're selling a product or buying one, is security.
And honestly, nobody can blame them.
The internet is a scary place with lots of potential security threats.
But, don't freak out too much.
There are lots of security measures in place to make sure that your internet browsing session is an enjoyable one.
Today, we're going to be highlighting one of the best security measures any brand can make with their website: SSL protection.
Now, thanks to our friends at ZeroSSL, SSL protection just became a lot easier.
Let's go over exactly what ZeroSSL is and what it can do to help you.
What is ZeroSSL?
To put it simply, ZeroSSL is a new, completely free to use, and trusted certificate authority and SSL platform.
Their aim is to make it easy and extremely affordable to create SSL certificates for anyone.

ZeroSSL is the first real alternative to Let's Encrypt, offering completely free SSL certificates through an easy-to-use UI and API.
They're launching this in partnership with an existing CA, and are a completely trusted Sub-Authority on their own.
Unlike Let's Encrypt, ZeroSSL not only offers an API/ACME, but also an easy-to-use API that allows users to create both 90-day and 1-year validity certificates through an unprecedentedly easy and simple process.
They are also currently testing their own ACME Server in BETA which will be released in May, and allows all existing ACME & Let's Encrypt Clients to automate certificate issuing through ZeroSSL.
Basically, it's a plug-in alternative to Let's Encrypt's ACME.
ZeroSSL offers both single domain, multi-domain and wildcard certificates for free through ACME, and allows users to create 1-year certificates with an affordable subscription plan.
In addition to ACME, they also offer a REST API to issue certificates automatically.
Unlike Let's Encrypt, they also allow users to validate domain ownership via email (not just DNS), making it much easier to quickly issue certificates via the UI.
ZeroSSL features
Honestly, there are so many features that ZeroSSL has to offer.
If we tried to mention them all in this article, you'd be here a while.

We mentioned a few just above, but it really only scratches the surface.
Here are some of the highlights that you'll probably want to know about:
Need to protect a fixed or variable number of subdomains using your SSL certificate?
Wildcards can be issued for any type of ZeroSSL certificate, regardless of validity.
To validate SSL certificates using Zero SSL, it only takes a few minutes.
It's straightforward and supports automatic CSR-generation and domain verification via email, HTTP or DNS (CNAME) file upload.
Installing SSL certificates literally couldn't be any easier with Zero SSL.
Using the readily available instructions online, all you have to do is download your certificate file and follow a few easy steps before you're ready to roll.
ZeroSSL's user interface is as intuitive and easy to use as they come.
Everything that you could possibly need to manage your SSL certificates is all gathered in one place.
SSL certificate monitoring
ZeroSSL takes certificate security very seriously. By enabling certificate monitoring, you'll get security measures beyond a simple expiration warning message.
Automatically renew your 90 day certificates with ACME automation.
ZeroSSL comes with a dedicated ACME certbot.
It's also supported by all major ACME integrations.
ZeroSSL features a straightforward SSL REST API that supports certificate creation, validation, renewal, management, and automated status webhooks.
Trusted by major brands
ZeroSSL is not only the greatest SSL certificate authority and SSL platforms on earth, but it's also trusted by numerous, massive brands around the world.

With 1,000,000+ certificates issued monthly, 500,000+ happy customers, and 99.9$ internet coverage, it's no wonder major brands like Lenovo, Slack, and Uber trust ZeroSSL every day.
Pricing
As we mentioned at the start, ZeroSSL offers a free package that contains 3 90-day certificates, and there's no need to enter a credit card whatsoever.
In addition to that free plan, they also have a lot of other pricing options to offer, too.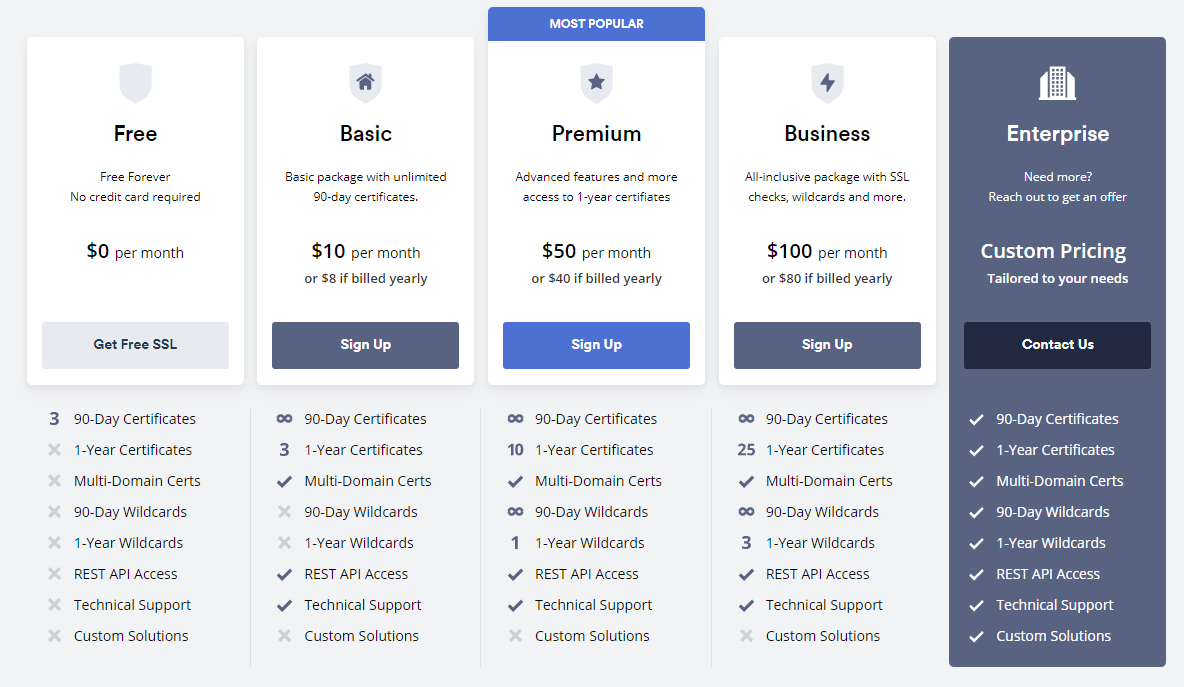 No matter the size of your brand or your specific needs, ZeroSSL has something for you.
Starting at just $10 per month, there's really no competition.
Keep in mind that if you don't see a package that fits your needs, they also offer custom enterprise packages just for you.
After everything we've mentioned here today, and the unrivaled support that ZeroSSL offers, the only conclusion that we can come up with is that we all should sign up as soon as possible.
Creating an encrypted channel between you and your clients in order to insure security is vital in this day and age.
SSL certificates provide that security and ZeroSSL provides a quick and easy way to obtain those certificates.