It's no secret anymore that a good social media presence can bring anyone some sweet cash. It's also no secret that in order to start making money online and become an "influencer," you have to put a lot of work into your online activity and image. From personalized messages, engaging videos, spontaneous stories, charming photos, to matching backgrounds and fonts, they are all contributing keys to an attractive and followable account. But nothing would matter if the style, the theme, and the design you choose doesn't match YOU.
If color, glow, bold typography, radical shapes, and retro aesthetics define you, you have to show it to your audience in the purerest forms. How? Let me introduce you to the ultimate social media kits with a retro vibe. Start being your true self online and the followers with flow.
Let's get started.
1. OMG80s Background Image Pack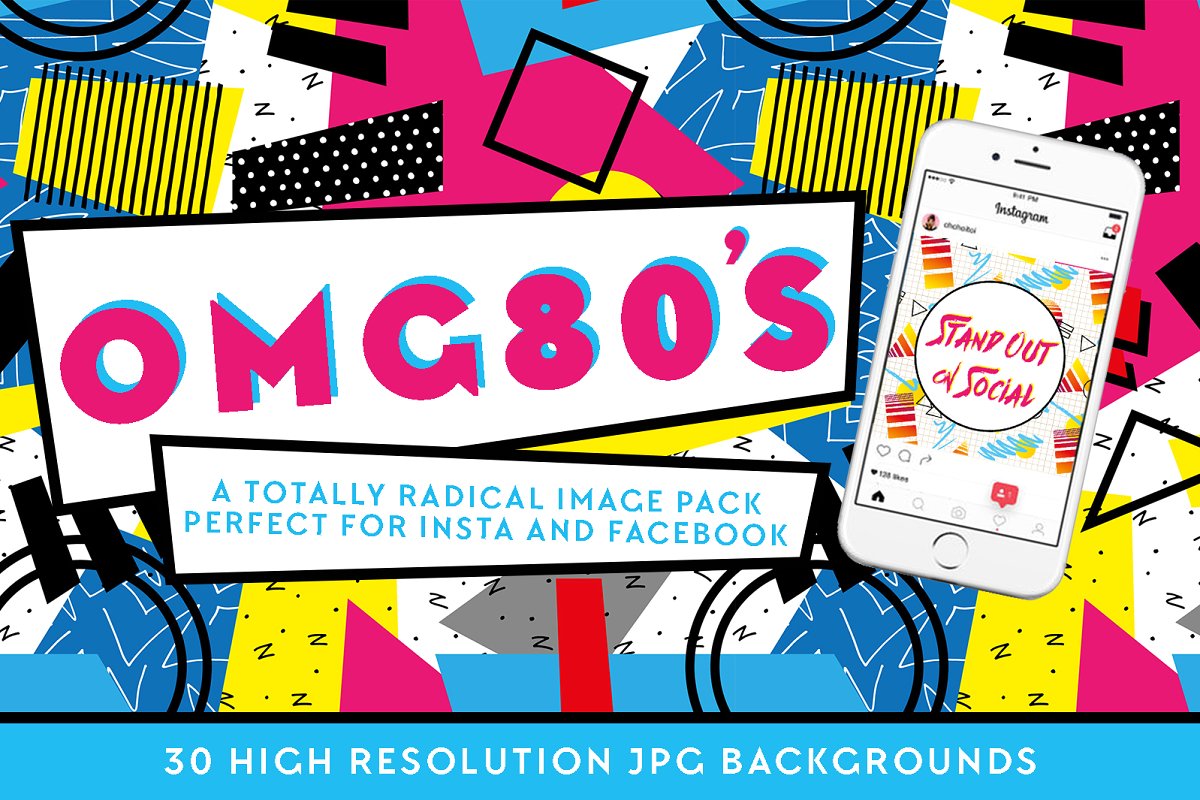 The combination of bright colors and radical shapes has always been the ace up the sleeve of many big companies when it came to marketing. Why not use this trend to your own benefit? OMG80s Image Pack not only features eye-catching colors, but the images also come in a square shape, ready for Instagram or Facebook!
2. 80s Synthwave Square Art Pack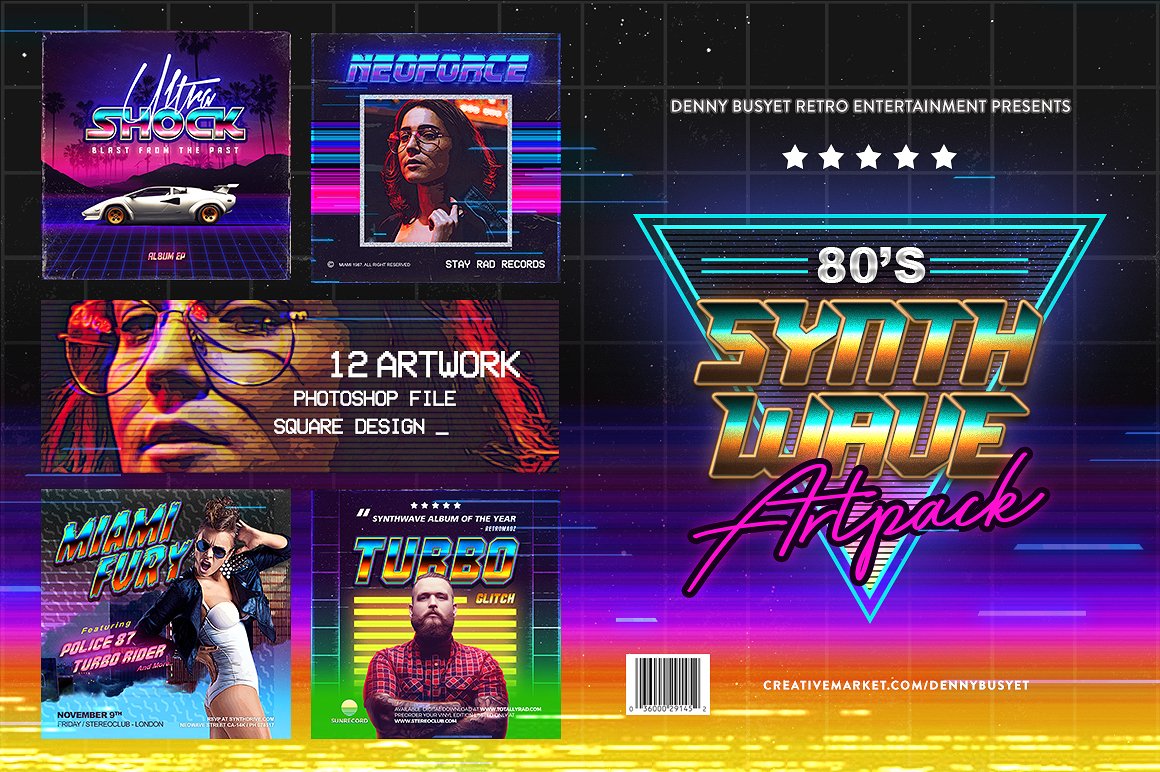 Words and images go hand-in-hand when transmitting a message. But words need to have their own personality, too, which can simply be achieved if you use the right font. What looks more like the 80s and sounds more like the 80s than Synthwave? The music genre transcribed into this font masterpiece will wow your followers and fans. Now, the message is just as important. Whether you are the girly, all pink type or the high-fashion guy that prefers quality over anything, use this versatile Art Pack. It will do the job well. Moreover, the files are highly editable and the guide will teach you how to use them.
3. BOLD Social Media Brand Templates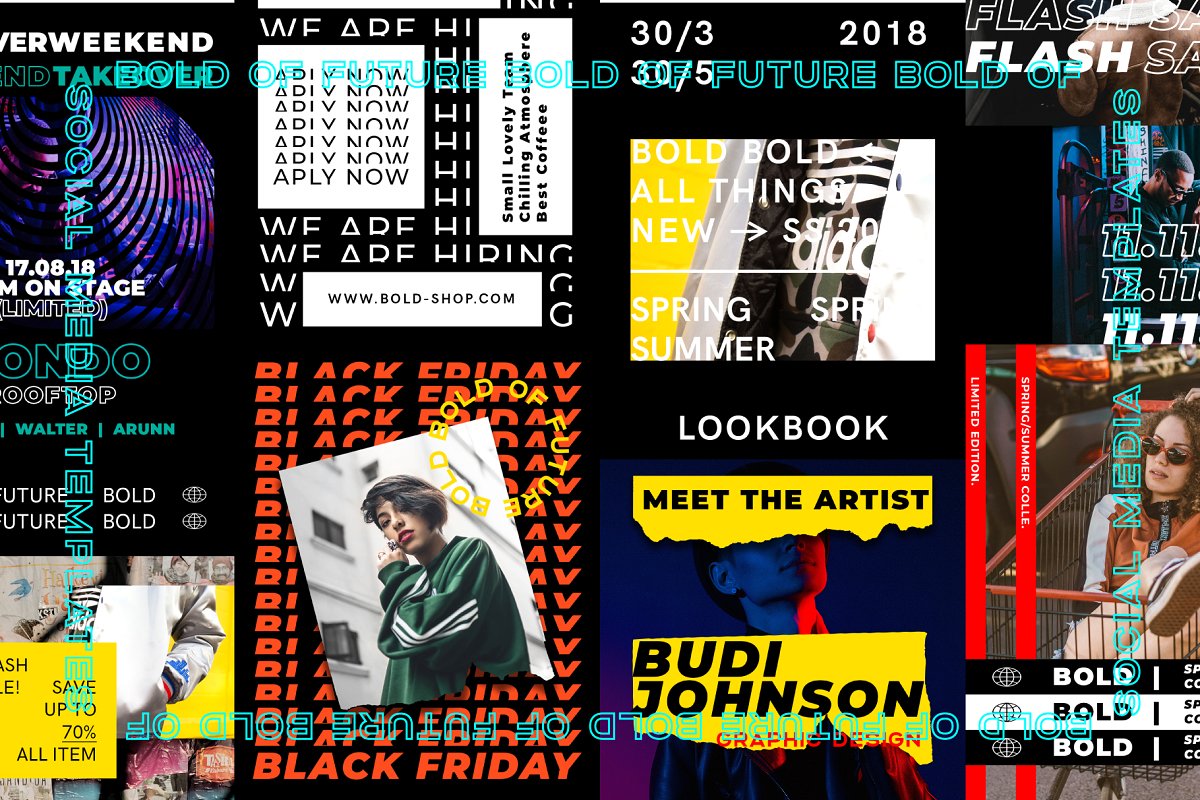 Do you plan on creating your own brand or do you already own a brand? Get your campaign going the right, retro way! Inspired by the Swiss design, this pack of Bold Social Media Brand Templates features bold fonts and overlaying images that create a visual impact. With only a few clicks you can design perfect, captivating Instagram, Facebook, Twitter, and Pinterest posts. The 90 PSD File Design will make your account on any of the mentioned platforms popular in no time.
4. Celebgram Instagram Fashion Pack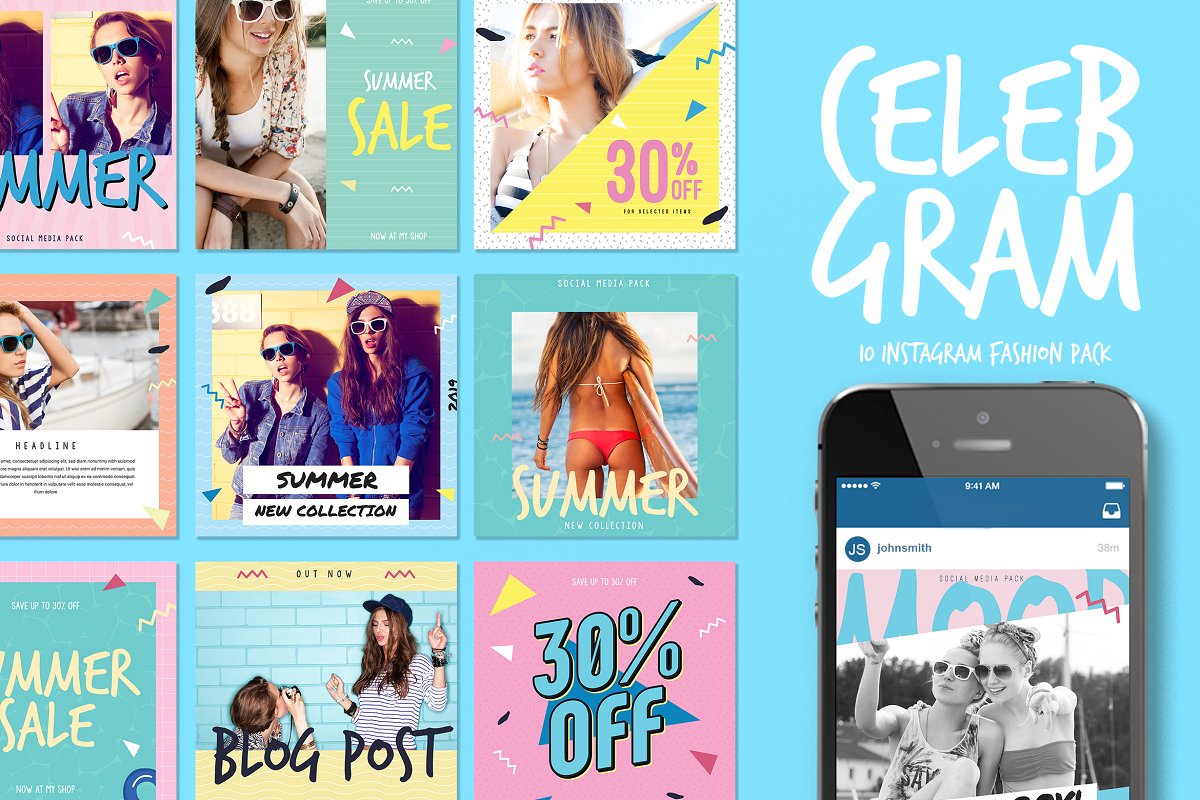 Everybody can sell clothes online, but not everybody can do it with style. This particular pack screams glam-retro, and it's perfect for anyone going for that vibe. The kit comes with 10 Photoshop/Illustrator files, and the templates are optimized for Instagram. You can customize pretty much every aspect of these templates, so let your inner retro-glam shine.
5. Retro 80's Social Media Template Pack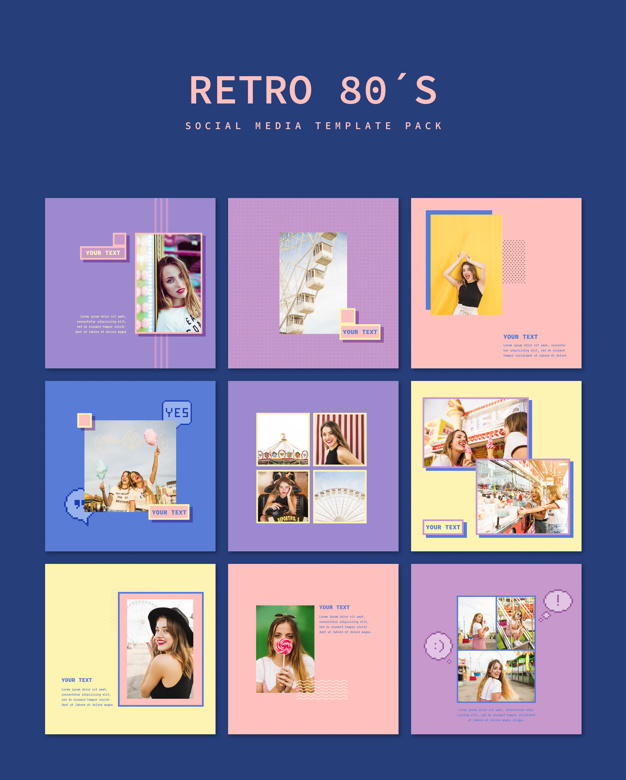 One of the biggest fashion trends from the 80s and 90s were the colors! Pastels, pinks, blues, and many more lit up the design world back then, and it's definitely something that needs to be incorporated into any retro-themed social media kit. This particular kit comes with 9 templates in 5 different colors. All of which can be edited in Photoshop.
6. Flat Memphis style Instagram Stories Collection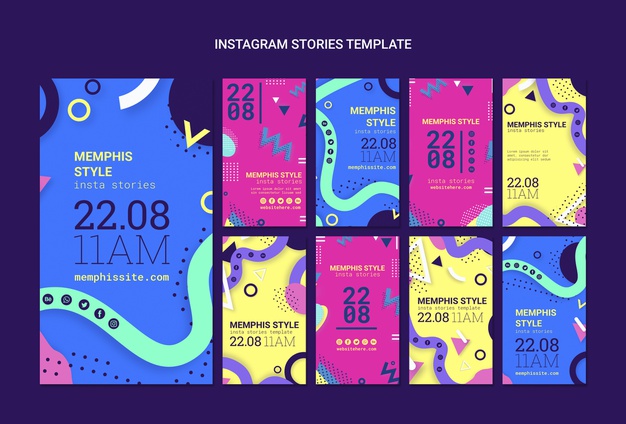 The 80s were wild, weren't they? Any time you look back on old pictures, or see movies from that time, they had the strangest patterns on their clothes, in their carpets, and painted on their walls. These abstract patterns are definitely signature 80s retro, and they're differently the perfect fit for any retro-inspired design. The Flat Memphis Style Instagram Stories Collection takes everything we remember and loved about the 80s and crammed it into 9 templates. Each template has similar style, but they all most cool colors and wild patterns that is unmistakably retro 80s.
7. NEORD Social Media Brand Templates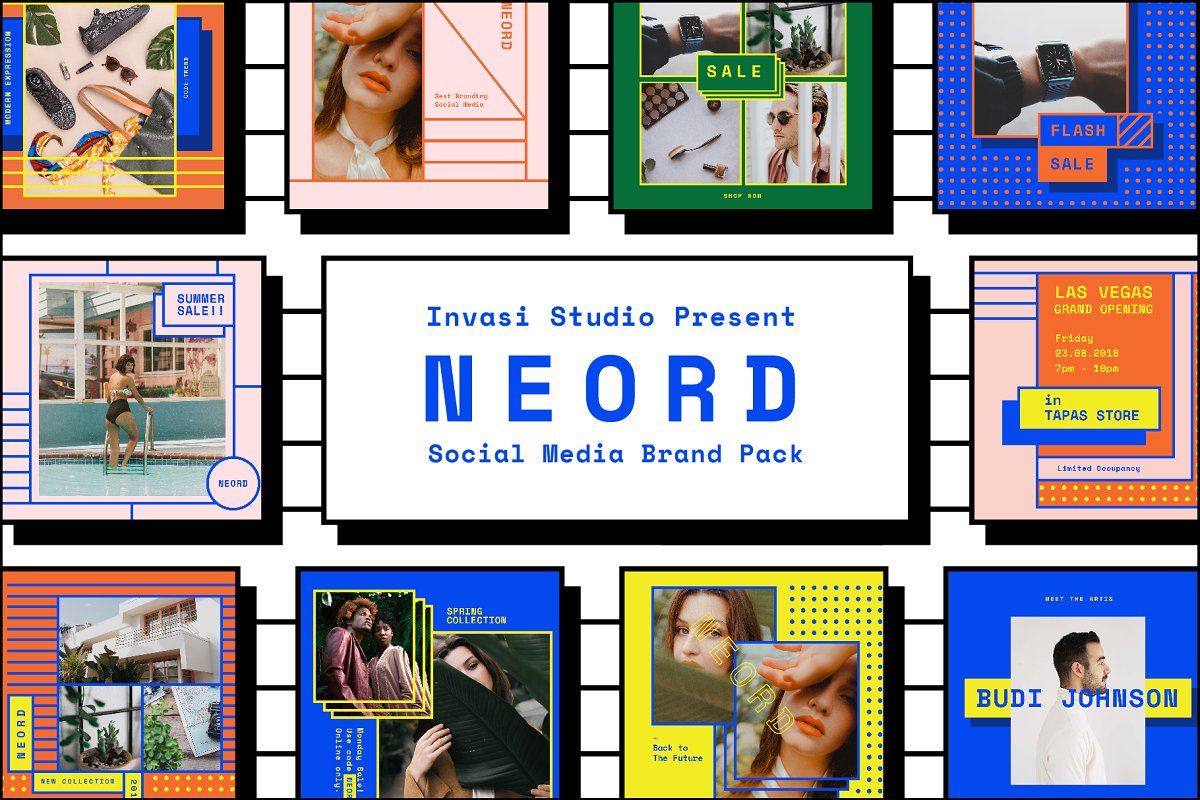 As we've stated before, bold is the theme for the 80s and 90s. At least, what is considered bold to us now. The NEORD kit has lots of bold lines, sharp patterns, and interesting color choices, making it perfect for a retro vibe. Everything is easily editable, and it includes 30 files for Insta, Facebook, and Pinterest. It's worth the purchase for the uniqueness alone.
8. Stream 10 Duotone Instagram Posts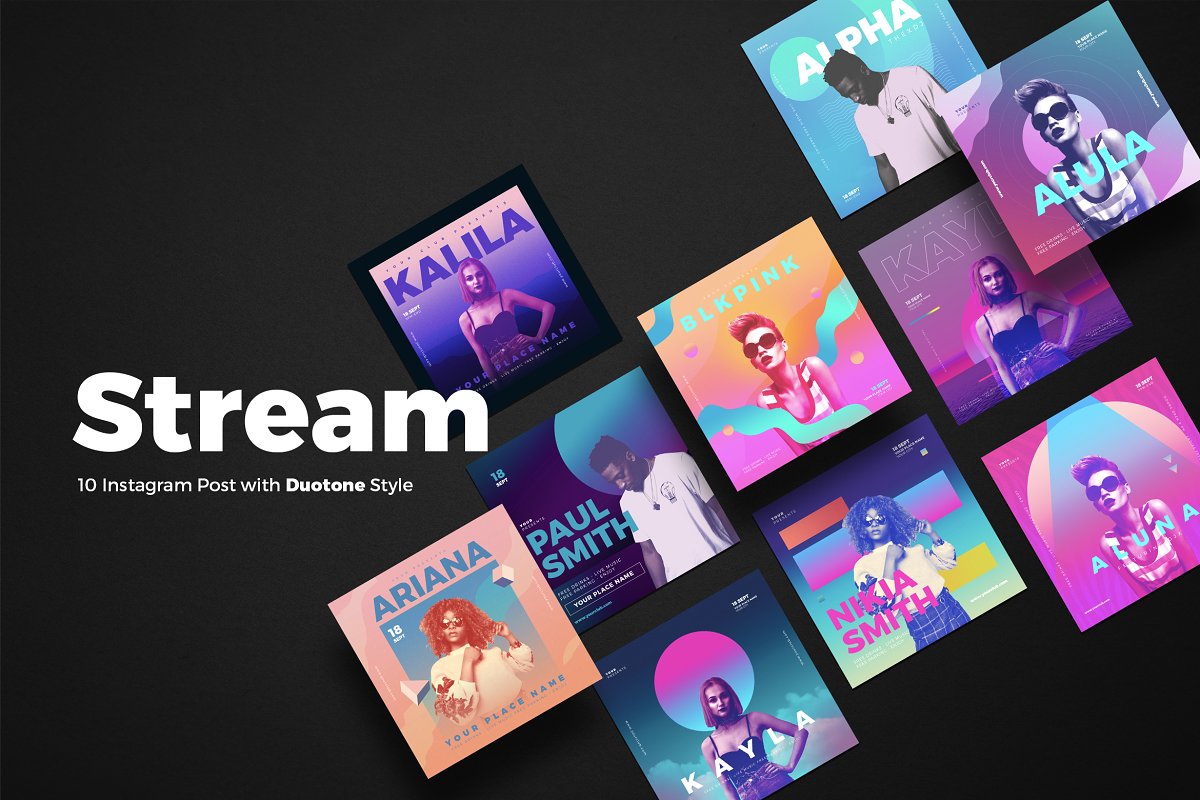 Some of the best designs out there take inspiration from previous trends, and put a modern twist on it. The Stream 10 Duotone Instagram Posts are a perfect example of reimagined design. These10 Photoshop files take all the vibrant colors from the 80s and 90s and turns them into unique gradients that are sure to light up anyone's Instagram feed. But, as cool as the colors are, you can certainly edit them if you want to in Photoshop.
9. Colorful Summer Party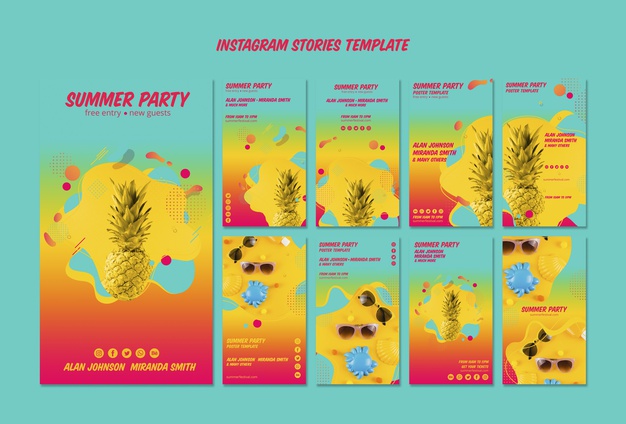 Hosting a party soon? Want to shout it out on Instagram? Then you've found the perfect retro-inspired stories template to do it. This social media kit comes with 9 vibrant templates that are perfect to share your upcoming house party. Or, maybe you have other ideas for how to use this. No worries. Simply drop it into Photoshop, and change any aspect you'd like.
Start posting
These are just a few of our favorite retro inspired social media kits out there right now. That being said, there are plenty more on the market you can choose from. There is a very clear theme present throughout all of them, but the uniqueness of each one is why they made this list
The key to nailing any retro-themed design is clearly the right choice of colors and imagery. Often times, as we saw in a few examples above, it really only takes a few shapes to pull of the 80s vibe.
We hope you enjoyed this fun little list. If you have any other suggestions and want to share, feel free to let us know in the comments below. Not every occasion allows you to rock a retro design on social media, so make sure you find the perfect one to fit the mood. But, most importantly, have some fun!